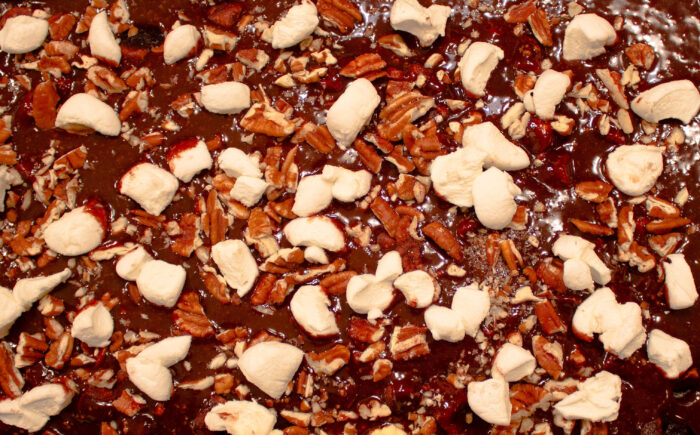 It was a dark and stormy night on a rocky road when …
When you make brownies, what do you do? Just bake, pull them from the oven and devour? I know, the aroma of fresh brownies is very hard to resist. But, resistance is not futile. And, and, there is a more civilized approach to brownies.
Let your brownies cool. Make a chocolate glaze — there's a recipe below here. Glaze the brownies, then adorn with chopped nuts and marshmallows. Here, I did not use mini marshmallows. Instead, I took full-sized ones and cut them up with scissors. Sticky but satisfying.
The transformation of your brownies, from simple to elegant, is striking. It's worth the wait. It rewards your patience.
The glaze is a snap to prepare. It's simple. It's fast. And it tastes great.
---
Chocolate Glaze
Yield: 1 cup
Ingredients:
2 tablespoons butter
2 ounces unsweetened chocolate
1 cup powdered sugar
2 tablespoons boiling water
Preparation:
Combine the butter and chocolate in a saucepan over low heat. Cook, stirring until melted. Alternatively, put the chocolate and butter in a microwave-safe bowl and microwave on medium for about 1 minute. Stir and continue to heat for about 15 seconds at a time, stirring between intervals, until the chocolate and butter are melted and smooth.
Stir the sifted powdered sugar into the melted butter and chocolate. Beat the mixture, adding small amounts of boiling water until thinned as desired. If you happen to find it too thin, add a little more powdered sugar. If too thick, add more hot water.
Drizzle over your brownies.
---
Source: thespruceeats.com