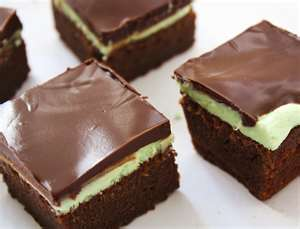 No Super Bowl party can conclude with a victory dessert. Long ago in Portland, Oregon, Rose Nataflin had a bakery that drew crowds out the door. Her two cookbooks, now sadly out of print, are treasures. This layered chocolate cookie from Rose is a reminder of how grand a cookie can be. A chocolate brownie cookie is baked, then topped with a mint cream which becomes the middle when chocolate glaze crowns the entire affair. These are easy to make, easier to eat, and impossible to forget. I cannot tell you how many times I have made these. Suzen suspects, but currently I am not under oath or in witness protection.
Grandma Rose's Chocolate Layer Cookies
Yield: one 9″ square which is more than enough for … [I don't want to get personal here]
The Cookie Layer:
2 ounces unsweetened chocolate
½ cup sweet butter
2 eggs
1 cup sugar
½ cup slice nuts [pecans, walnuts, or almonds — all work but I prefer pecans now]
½ cup unsifted, all-purpose flour
Preheat the oven to 350°F.  Thoroughly grease a 9" square pan.  Melt the chocolate and butter together over hot water.  In a bowl, beat together the eggs and sugar until thick.  Add nuts, flour and chocolate mixture and stir until smooth.  Pour batter into pan and bake for 25 minutes.  Let cool.
The Mint Cream Filling Layer:
1 ½ cups powdered sugar
3 tablespoons  softened sweet butter
2 tablespoons  heavy cream
¾ teaspoon peppermint flavoring
Beat together all the ingredients until smooth.  If you like, sprinkle a drop of green coloring in this mint cream.
Spread the filling evenly over the cookie layer, cover and chill until firm.  About 1 hour.
The Chocolate Glaze on Top:
2 ounces  sweet chocolate
2 tablespoons butter
1 teaspoon vanilla
Melt together all ingredients over hot water.
Drizzle the glaze over the mint topping.  For some added visual elegance, you can top with chopped nuts. I haven't tried shredded coconut, but that might be a very different flavor contrast with the mint.
Cover and chill again until firm.  Cut the layer into bite-sized squares and place in paper candy cups. [Oh, to be honest, I never bothered with the cups. I just began nibbling.]
Source: Grandma Rose's Book of Sinfully Delicious Cakes, Cookies, Pies, Cheese Cakes, Cake Rolls & Pastries by Rose Nataflin