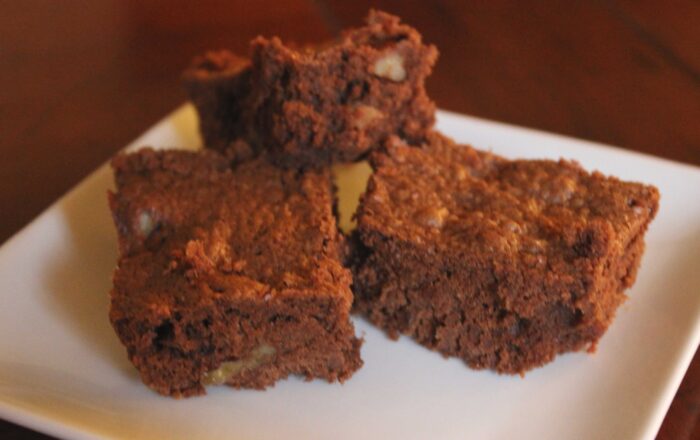 The things you find. I was going back 10 years for this week's Throwback Thursday blog and I found this recipe. Which was never posted. It's been sitting in my directory as a draft and for 10 years you haven't had the pleasure of this brownie.
Another brownie? Yes. How many can you eat? How big is infinity. Especially when the brownies has bourbon and the brownie is frosted and the frosting has bourbon. My grandsons make this with me. They were only 12 and they did taste. Should I say imbibe? I just asked them what they remember about that night in our kitchen together. They have total blackouts.
Not enough bourbon here to affect you really. But enough to make this distinctive!
---
Where's the bourbon," I asked my grandsons. They are twelve.
"How should I know?" they responded in tandem. They are twins.
"Up there, right? I angled my head towards the cabinet tucked into the farthest corner of their Austin kitchen.
"Probably." Tandem again.
"I need a ladder," I said.
Early I posted a recipe for fudgy saucepan brownies. Here, the saucepan stays, but these have enough flour to give you a cakey brownie. Plus some bourbon to top the brownies and introduce just a little flavor to a rich frosting. If your grandchildren are still abstaining, you can skip the bourbon entirely. Just make the frosting with milk.
Daniel and Reid like the bourbon.
Best Ever Bourbon Brownies
Yield: 16 brownies, 2" X 2"
Ingredients:
½ cup sugar
⅓ cup butter
2 tablespoons water
1 cup semisweet pieces
2 eggs
1 teaspoon vanilla
¾ cup all-purpose flour
¼ teaspoon baking soda
¼ teaspoon salt
½ cup chopped pecans, toasted
2-3 tablespoons bourbon
1 recipe Bourbon frosting
Preparation:
Preheat the oven to 350°F. Line an 8X8X2-inch baking pan with foil, extending the foil about 1 inch over edges of pan. Grease and set aside
In a medium saucepan, combine the sugar, butter, and the water. Cook and stir over medium heat, just until boiling. Remove from the heat.
Stir in 1 cup chocolate pieces until melted. Add eggs and vanilla, beating with a wooden spoon just until combined. Stir in flour, baking soda, and salt. Stir in the chopped pecans. Pour batter into the prepared pan, spreading evenly.
Bake about 25 minutes or until a wooden toothpick inserted near center comes out clean and the edges start to pull away from the sides of the pan.
Place the pan on a wire rack. Brush top f hot brownies with bourbon. Cool in pan on rack.
Spread brownies with Bourbon Frosting. Cut into bars.
Bourbon Frosting
In medium mixing bowl, beat 3 tablespoons softened butter with an electric mixer on medium to high speed for 30 seconds. Gradually and 1 ½ cups powdered sugar, beating well. Beat in 1 tablespoon bourbon or milk and ¼ teaspoon vanilla. If necessary, beat in additional bourbon or milk, 1 teaspoon at a time to make frosting spreading consistency.