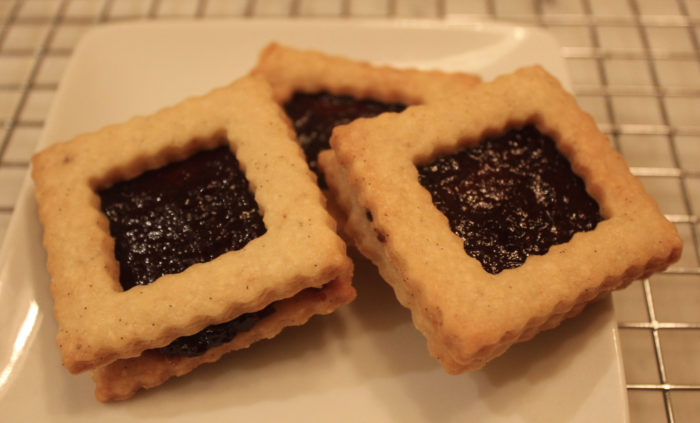 The wonderful new cookie book, The Perfect Cookie from America's Test Kitchen, you will encounter one perfected recipe after another. We all grew up with Oreos and the idea of a sandwich cookie as something "special" is now almost genetically ingrained in us. Ah, but they do not have to be chocolate.
This cookie is sublime, and a tad expensive. It calls for using two vanilla beans, in addition to vanilla extract. Good vanilla beans are a buck or more each. Why not just use more vanilla extract? There is nothing that can supply the deeply rich flavor of a vanilla bean. Sure, you can add a tablespoon or two of vanilla extract, but that will unbalance the wet/dry mixture of your dough.
The idea of having a sandwich cookie with a "window" filled with color, via jam, is an old one. Sometimes these were known as Cathedral Cookies.
Oh, the recipe title calls for apricots and our picture is dark red. Jam, any jam, works wonderfully. Here we used a black raspberry. Better still, make your cookies with several jam types and colors for a complete cathedral effect.
The cookie dough is absolutely distinctive and grand. You can simply shape it and bake as the ideal complement to your morning coffee. The jam is not mandatory, but a really good idea!
---
Vanilla Bean-Apricot Sandwich Cookies
Yield: about 20 sandwich cookies
Ingredients:
2 ½ cups (I2V2 ounces) all-purpose flour
¾ cup superfine sugar
¼ teaspoon salt
16 tablespoons unsalted butter, cut into 16 pieces and softened 2 vanilla beans
1 ounce cream cheese, softened
2 teaspoons vanilla extract
¾ cup apricot preserves
Preparation:
Using stand mixer fitted with paddle, mix flour, sugar, and salt on low speed until combined. Add butter, 1 piece at a time, and mix until crumbly, 1 to 2 minutes. Cut vanilla beans in half lengthwise. Using tip of paring knife, scrape out seeds. Add vanilla bean seeds, cream cheese, and vanilla and mix until dough begins to form large clumps, about 30 seconds. Transfer dough to counter, knead briefly to form cohesive mass, and divide in half. Form each piece into disk, wrap disks in plastic wrap, and refrigerate for 30 minutes.
Adjust oven rack to middle position and heat oven to 375 degrees. Line 2 baking sheets with parchment paper. Roll each disk of dough Vs inch thick between 2 large sheets of parchment. Transfer dough rounds, still between parchment, to refrigerator for 10 minutes.
Remove top piece of parchment. Using 2 ½ -inch cookie cutter, cut dough into shapes; space shapes 1 ½ inches a on prepared sheets. Using ¾-inch cutter, cut out center half of dough shapes. Gently reroll scraps once, cut into shapes, transfer to prepared sheets, and cut out centers of half the shapes again. Bake, 1 sheet at a time, until cookies are light golden brown, about 10 minutes, rotating the sheet halfway through baking. Let cookies cool on sheet for 3 minutes then transfer to wire rack. Let cookies cool completely.
Spread bottom of each solid cookie with 1 teaspoon preserves, then top with cutout cookie, pressing lightly adhere, before serving.
---
Source: The Perfect Cookie by America's Test Kitchen [2017]
Photo Information: Canon T2i, EFS 60mm Macro Lens, F/4 for 1/30th second at ISO‑1250