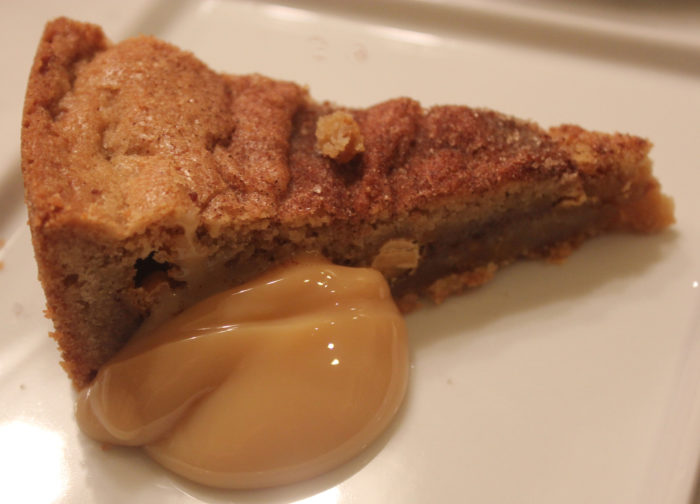 I just posted a cookbook review of Butter & Chocolate by Shelia G. Mains, the founder of the Brownie Brittle company. You may have snacked from of the millions and million of bags she has distributed across the country.
In her cookbook, she has many chocolate ideas and even a blondie or too. We tried the White Chocolate-Cinnamon recipe and found it be the perfect breakfast cookie. It pairs ideally with espresso or cappuccino. Or even coffee.
The recipe here calls for a 9 X 13-inch pan. After we made the batter, we looked at that pan and just felt there was not enough batter to give us the height of cookie we wanted. [No, I had not eaten that much batter myself!] So, greased a 9-inch round and found the cookie to be fine. Yes, this recipe calls for salted butter plus additional salt. We went with unsalted butter.
You can make this recipe with white chocolate as it calls for or try some butterscotch chips for an excellent complement to the cinnamon.
I think these cookies would last 3 or 4 days, but in our kitchen they did not. They are a lovely way to begin your day. Particularly if you follow our serving suggestion: a dollop of dulce de leche on the side. Or on top. Whatever.
---
White Chocolate-Cinnamon Blondies
Yield: about 24 cookies
Ingredients:
For the batter:
12 tablespoons salted butter
1 ½ cups light brown sugar, packed
2 large eggs
2 teaspoons pure vanilla extract
1 ½ cups all-purpose flour
1 teaspoon baking powder
½ teaspoon salt
1 cup (6 ounces) white chocolate chips [or butterscotch]
For the cinnamon-sugar filling:
2 teaspoons ground cinnamon
¼ cup sugar
Preparation:
Preheat the oven to 350°F. Grease a 9 x 13-inch pan and set aside. [Remember, we used a 9-inch round!]
Prepare the white chocolate blondie batter: Using an electric mixer or spatula, mix together the butter and brown sugar until well combined. Add the eggs and vanilla and mix well. Add the flour, baking, powder, and salt and mix thoroughly. Fold in the white chocolate chips with a spatula until evenly distributed. Pour half of the batter into the prepared pan, creating a thin, even layer.
Make the cinnamon-sugar filling: Stir together the cinnamon and sugar. Sprinkle half of the cinnamon-sugar over the batter. Top with remaining batter, smoothing it to create a thin, even layer, and then sprinkle with the remaining cinnamon-sugar.
Bake for 25 to 28 minutes, until a toothpick inserted into the center of the blondies comes out clean.
Cool completely, and then cut into 24 pieces.
---
Source: Butter & Chocolate by Shelia G. Mains [Kyle, 2016]
Photo Information: Canon T2i, EFS 60mm Macro Lens, F/4 for 1/50th second at ISO‑1000