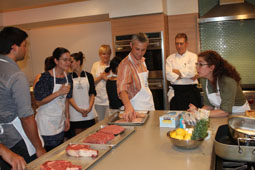 We have great news for fans of our cooking classes at Cooking by the Book. Public classes, open to everyone, are back. And back with style.
We have introduced Takeaway Classes at CBTB, accelerated classes to let you learn and flourish with new skills. Each class will conclude with you taking away recipes, tools, ingredients, or other goodies so that you can keep practicing and learning at home.
We are thrilled to begin the Takeaway Classes with the owners of Fleischer's Grass-Fed and Organic Meats. Josh and Jessica Applestone have new standards for understanding the best practices of first raising and then cooking all kinds of meats. Their new book, The Butcher's Guide to Well-Raised Meat, is a must read for any foodie.
Last night, September 14, was our kickoff class. That's Jessica in the right of the picture as she lectured and demoed to an enthusiastic class. Jessica focused on preparing pork and lamb. As the class watched, the CBTB staff was business preparing a truly perfect meal using the pork and lamb cuts demonstrated in the class.
After the meal, each student left with a copy The Butcher's Guide, a Fleischer's boning knife, and a true enthusiasm to keep on cooking.
We have three more classes scheduled with Fleischers. At each one, the Applestones will bring their best current organic meats to share flavors and skills with you.
Check our website for dates and for ideas about other forthcoming Takeaway Classes.