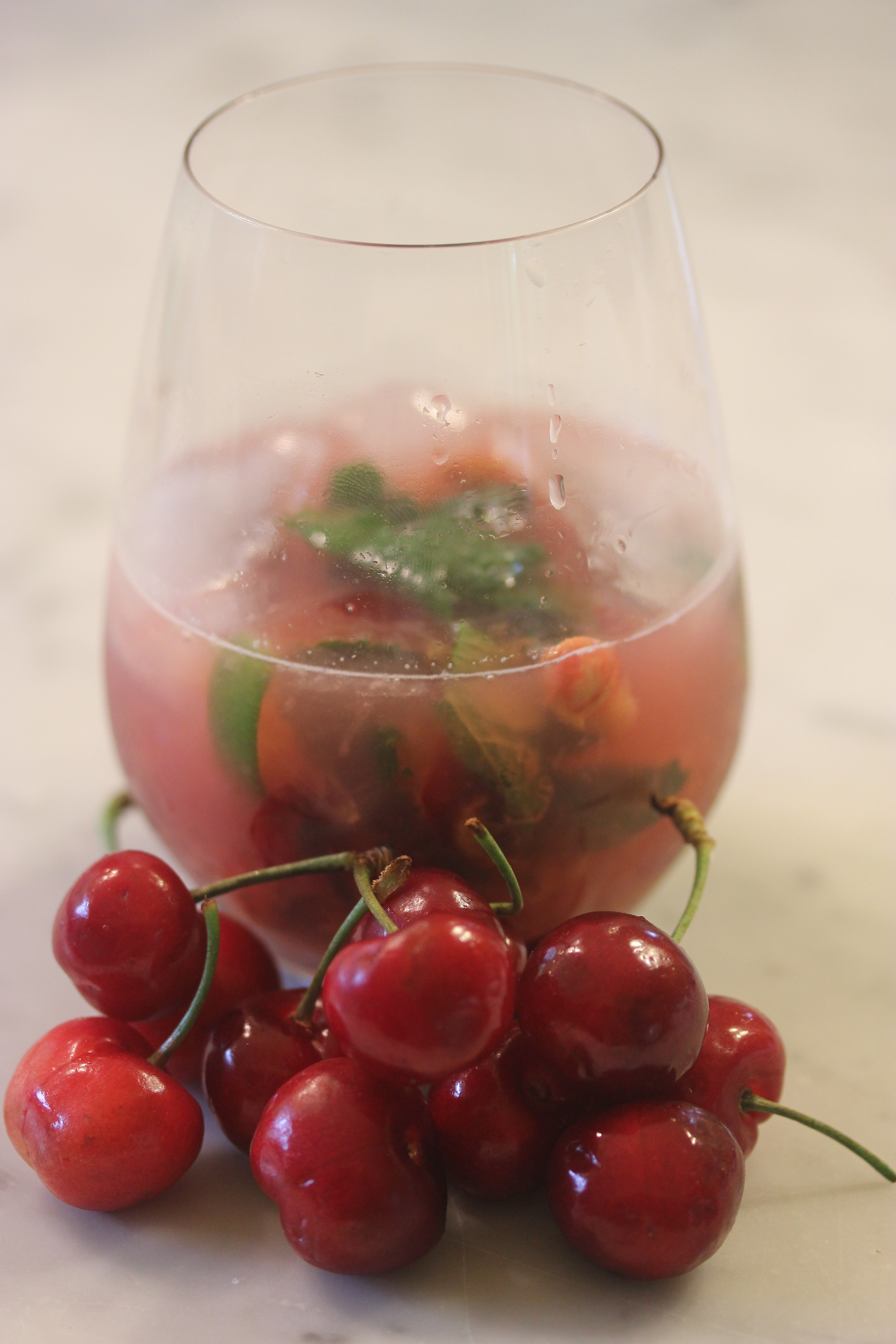 Cherry can be a tough flavor to love. You grow up, get sick, have cough syrup, and vow that never, never, never again in your life will you have another thing to do with vile cherries again. Except maybe for pie. Pie should always be an exception.
When the weather warms and you want something cool, a mojito comes to mind. Now, discard that cherry prejudice. Get some fresh Bings and make this Bing Cherry Mojito. It's good. It's not cough syrup.
The recipe calls for cherry liqueur which while not vital is definitely insurance. Cherries vary so widely in the intensity of their flavors that having a cherry base in the liqueur is your assurance of a distinctive cherry flavor.
You only need 12 cherries for two cocktails here. You can still make that pie!
Bing Cherry Mojito
Yield: 2 drinks
Ingredients:
½ large lime
8 large mint leaves
2 teaspoons sugar
12 Bing cherries, pitted
3 ounces white rum
¾ ounce Cherry liqueur [Cherry Herring]
½ teaspoon cherry bitters [Fee Brothers]
Club soda or sparkling water
Preparation:
Place the lime, mint leaves, and sugar in a mixing glass. Using a muddler, crush the ingredients until the sugar has dissolved and lime has released its juice. Add the cherries and continue to muddle until the cherries are well mashed and have released their juice. Top with ice cubes, rum, liqueur and bitters. Shake vigorously until very cold.
Place a few ice cubes in 2 tumblers. Strain the mixture into the glasses. Top with a little club soda or sparkling water. The proportion should be about 3 parts drink to 1 part club soda. Garnish with a mint sprig and serve immediately.
Source: foodandstyle.com
Photo Information: Canon T21i, EFS 60MM Macro lens, F/5.6 for 1/60 second at ISO 3200 [no flash]