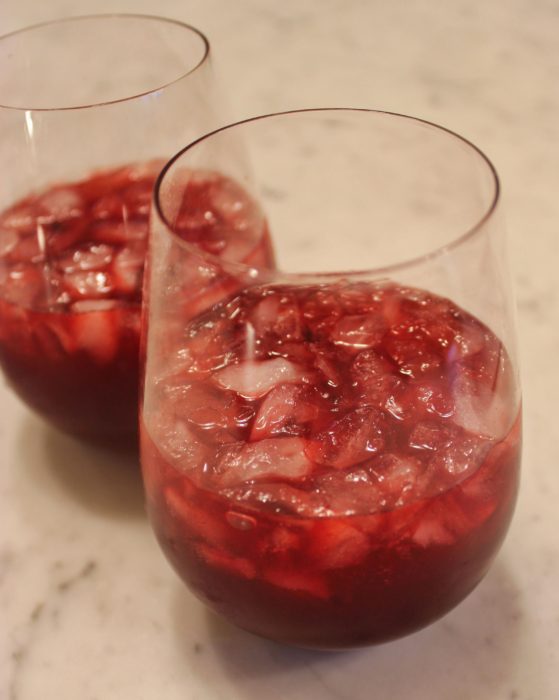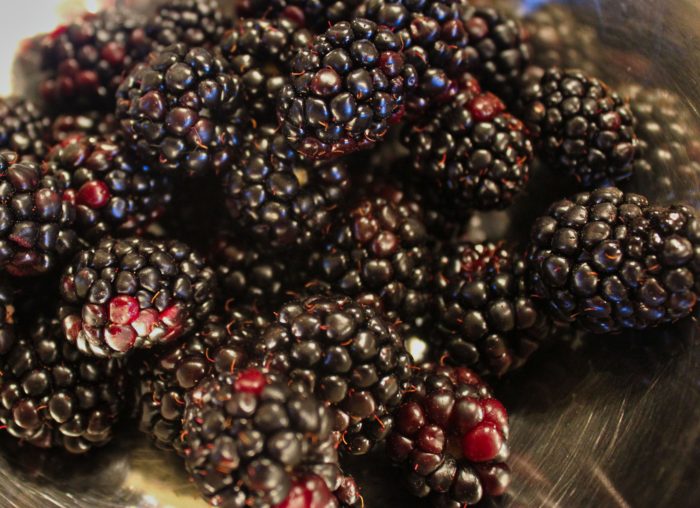 Berries, how I love berries. In junior high I made summer money picking strawberries in the hills south of Portland. Those berries fields are mostly gone now, replaced by acres and acres of vineyards. The resulting wine enjoys the terroir of decades of berries that were not picked and found their way back into the soil.
I made a little money. I engaged in berry fights and I ate a lot of berries.
So, my fondness for strawberries and my history are deep and long. We can, of course, get strawberries year-round now. In winter, the berries can be okay, but these are not the summer berries full of sunshine and sugar.
Other berry types are available all year long too and, I think, fare better for us. Blackberries are wonderful year-round. Dark and deep in color, they always seem to possess a special character. I am fond of strawberries. I am in awe of blackberries.
Combining gin with blackberries produces a beverage full of blackberry flavor and color. This is a perfect cocktail. And you use the mint simple syrup I blogged yesterday.
I was curious as I began this post about how dominant strawberries are on our berry shelves. Strawberries seem to dominate. I assumed that the acreage devoted to growing them would match that profile. But I was wrong. If you look at all the acres of land devoted to berry growing, here's the breakdown:
47% blueberries
22% strawberries
16% cranberries
8% raspberries
6% blackberries
Yes, these blackberries are grown far less than the others. I'm sure if more of you enjoy this cocktail, blackberry demand will soar!
---
Blackberry Burst
Yield: 2 cocktails
Ingredients:
3 ounces of mint simple syrup
1 cup of blackberries
3 ounces of freshly squeezed lemon juice
5 ounces of gin
Preparation:
Add half the mint simple syrup — about 1 ½ ounces — into a muddling container. Add the berries and muddle aggressively. Pour the contents into a sieve positioned over a bowl and capture the liquid.
Relax. Your muddling was not effective. With blackberries it is very, very hard to crush everything. Use the back of large spoon to crush the remaining berry meat and capture every possible drop of blackberry juice.
Pour that blackberry juice into a cocktail shaker. Add the lemon juice and gin. Add ice, shake and pour into cocktail glasses filled with crushed ice. If you desire, garnish with lemon zest or a whole berry.
---
Source: Brian O'Rourke
Photo Information [Top]: Canon T2i, EFS 60mm Macro Lens, F/3.5 for 1/30th second at ISO‑320
Photo Information [Bottom]: Canon T2i, EFS 60mm Macro Lens, F/4for 1/30th second at ISO‑2500