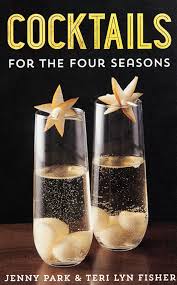 Peter Pauper Press is a remarkable success story. Founded in 1928, it remains a family owned business publishing an array of books and offering sweet gift ideas.
They have a new book which also happens to be a perfect gift. Authors Jenny Park and Teri Lyn Fisher have written Cocktails for Four Seasons. The book is a mini one, small enough just to cover your hand. But there are 158 pages and dozens of drink recipes organized by the season of the year.
There are old drink recipes here, the classics like Pimm's Cup. But mostly there are new ideas, topical, brilliant and enchanting.
I was first attracted by a Spiked Shirley Temple. Think over the past decades how many times a parent or grandparent has made their child proud by requesting they be offered a Shirley Temple. You've had one, and you remember how you sat up extra straight as you were served and as you sipped away. You felt grown up. Unfortunately, I cannot recommend the Spiked Shirley Temple for your child. It's strictly, really strictly only for adults.
There's a wonderful drink, to be blogged tomorrow, a Roasted Strawberry and Jalapeno Freezer, made with jalapeno simple syrup and adorned with a candied jalapeno knot. Oh, the strawberries are roasted in champagne vinegar and olive oil. Look for it tomorrow. It will, I assure you, become a standard in your bar repertoire.
That jalapeno syrup is one of the keys to why this book is so darn good. There are recipes for simple syrups using dill, basil, lavender, lemongrass, tamarind, and thyme. Naturally there are devilishly grand drinks to go with them. For example, a Rose-Dill spritzer with the dill syrup and a Lavender Limoncello with the lavender syrup.
If syrup is not to your taste, you have many other choices. Like the Raspberry Mojito or the Honeydew, Cucumber and Mint Agua Fresca Punch.
If you are cocktail lover, then this slim volume is a necessity. I wouldn't get rid of all my other cocktail volumes necessarily, but this book really could get you through a stint on a dessert island.