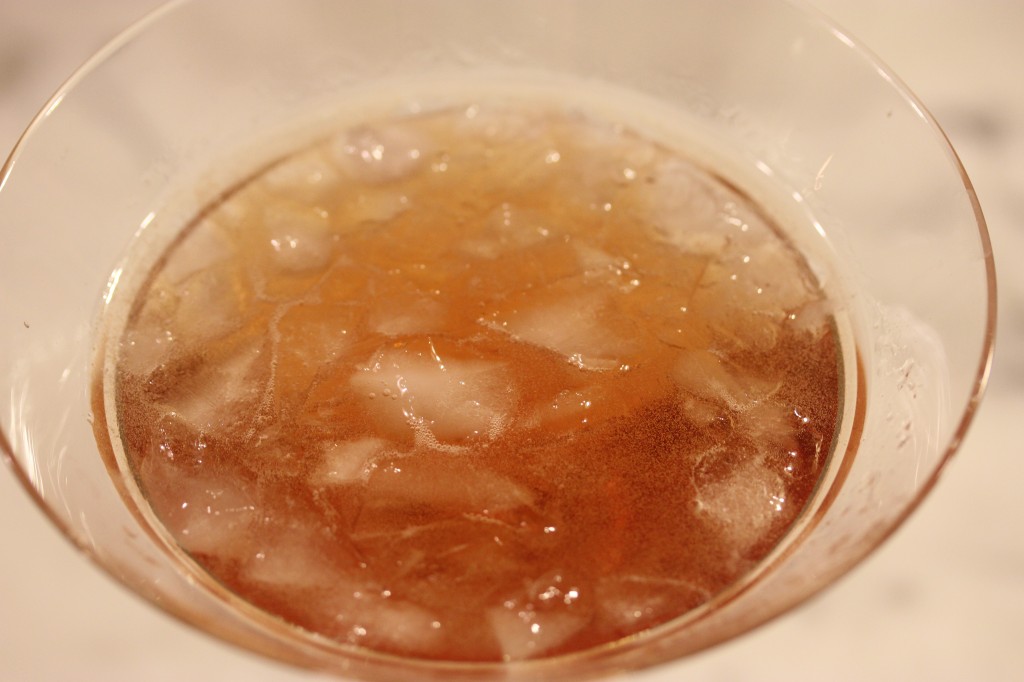 This cocktail is the most awesome, most complex drink I have ever experienced.
And I did it myself.
I'm not a fan of the way many foods and almost all wines are described. It's like riding in an elevator: first this flavor, than this note, now we're at the third level, …
Now, some foods or beverages do come across that way. But there are complex situations that cannot be described on a one-at-a-time basis. And it's not a simple wave-after-wave matter either, where one dominant flavor is overwhelmed by just one more.
No, sometimes, the flavor experience can be complex and competitive. Initial smokiness can be pushed aside by herbal sweetness and both those flavors can be toppled at once by spice that tingles throughout your mouth. Then the power of alcohol puts a warm glow in your mouth, gently "baking" all those earlier flavors that are still there, still not gone, but now transforming. The flavors roll around in your mouth, appearing here, diminishing a bit, and then coming to the fore in the back of your mouth.
How do you create such a flavor experience? You make this cocktail, sit back, sip, and wonder.
My beverage here is my own experiment. I had seen a recipe for a French Pear Martini using St. Germain, pear vodka, and champagne. I'm using the St. Germain, but sparkling rose for the champagne and the pear vodka is definitely replaced by pear-infused tequila.
The recipe for the pear-infused tequila follow below. Why tequila over vodka? Well, technically, vodka is made to be flavorless. Flavorless. When you buy pear-flavored vodka you can have quite an experience. Some brands are good, using mostly real pears for the flavoring. Some are much more chemically based. And they all have preservatives. My pear-infused tequila is home-made. And it begins with tequila, which as you may know is hardly flavorless. Using tequila gives you an initial flavor boost for this cocktail.
Give this a try. Do be sitting down. And marvel at all the stories your mouth can spin.
Brian's Pear Tequila and St. Germain Experience
Yield: Serves 1
Ingredients:
2 ounces St. Germain liquor
2 ounces pear-infused tequila

Sparkling rose wine
Preparation:
Place the St. Germain and pear-infused tequila in a cocktail shaker, add ice and swirl. Yes, swirled, not shaken, not stirred. It's a traditional 00X technique.
Pour the mixed liquors into a classic wide-mouthed martini glass. Top with the sparkling rose. Dot with crushed ice.
Enjoy. Make more. Of course, this recipe can easily be scaled up. And, your options include swapping out the sparkling rose for that champagne or cava or Proseco. However, the sparkling red does help generate that complex color.
Source: Brian O'Rourke
Pear Infused Tequila
Yield: 1 liter
Ingredients:
3 USA Bartlett pears
1 Granny Smith apple
2 Cloves
1 Cinnamon stick
1 liter silver tequila, such as Herradura Silver or Sauza Hornitos Silver
Preparation:
Cut pears and apple into cubes, leaving peels and cores intact, and place in a large glass container with a tight-fitting lid. Add cloves, cinnamon stick, and tequila. Place lid on container and store at room temperature for six days, shaking periodically. Double strain to remove fruit and spices. Keep infused tequila refrigerated.
Source: Brian Miller, Death and Company