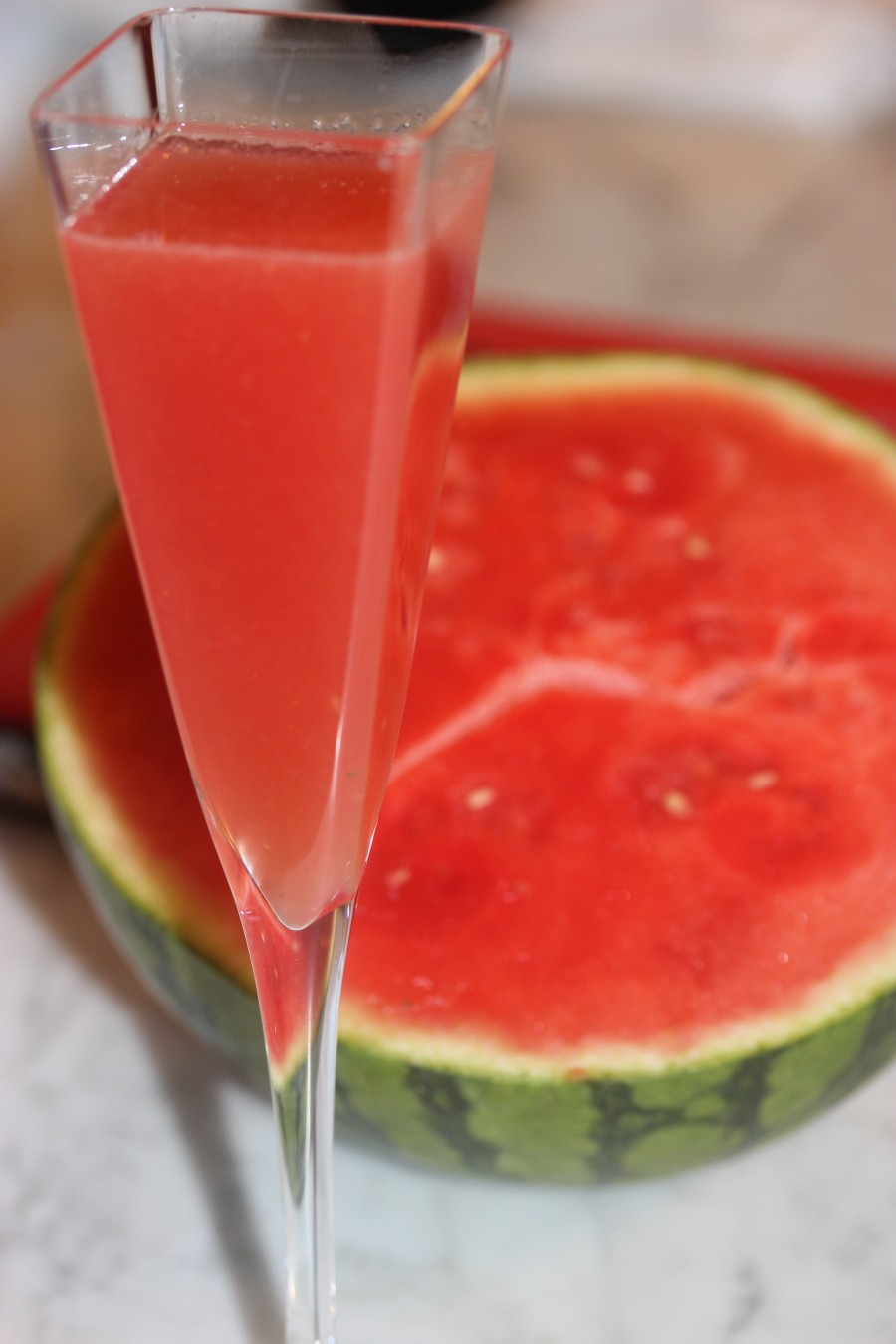 When I was in Austin last month, I had an awesome cocktail at a perfect restaurant. I asked for the recipe for the cocktail. They wouldn't give it to me. My waitress got a list of ingredients from the bartender, but no proportions. And the ingredients there did not match those on the beverage menu.
I was disappointed. I was actually pissed. But being a resourceful gentleman means two things. First, I will not vindictively name the restaurant. Second, I've taken the concept and created my own beverage. Is it better than the original? It been too long to tell, but mine is really, really good.
The secret here is watermelon juice. Proportionately, this drink is high on watermelon juice and low in alcoholic components. Suzen and I are planning a summer party for our friends and this drink is on the menu for many reasons: it is different, it is delicious, it is easy to make, most of it can be made ahead of time, and it can be enjoyed without getting tipsy. It's the ideal party drink.
To get the watermelon juice, I used our new Vitamix blenders. The Vitamix is shockingly fast at doing this. I took one of those smallish spring watermelons, about 5 pounds, and cut it in half. Using only one half, I cut off the exterior green and white to get to the core red fruit, which weighed in by then at just over 2 pounds. I cut that fruit into large chunks put them in the Vitamix, then turned the machine on at an intermediate speed. CAWUMP. It took about three seconds and that fruit was completely converted to juice.
Actually, a thick juice. The great thing about the Vitamix is the ability to liquefy yet have some body by retaining all the fruit, and thus all the nutrients. A blender can't do this. I've tried. Once you've converted to Vitamix, there is no going back. That hint of body in the juice gives you a cocktail that has weight on your tongue and mouth. It's a great feel to complement a great taste.
As I said, Suzen approves of the drink. In three weeks, we'll be back in Austin to see family. I just might go back to that restaurant for a taste off. If any of you know the folks at La Contesa, can you put in a word for me? I really do want to be friends.
Brian's Watermelon Elderberry Martini
Yield: 2 bountiful cocktails
Ingredients:
3 ounces of unflavored vodka
1 ounce of St. Germain Elderflower liquor
Juice of two lemons
2 ounces of simple sugar syrup
6 ounces of watermelon juice [definitely homemade with body]
Preparation:
Put all the ingredients in a cocktail shaker. Add ice and shake for a solid 30 seconds. No cheating. 30 seconds is more than 10 or 12 and yes it does make a difference and you don't have to go to a $400 bartending class to learn this important lesson.
Pour into the glass of your choice. The glass may be rimmed with sugar. You may want crushed ice inside. Or, because the drink is so juice heavy and you want to avoid diluting it, just go ice-less. That makes it a green drink in recognition of global warming, which is quite present in Texas this days.
Note: more ideas are coming for that watermelon juice. When planning a party, it's great to be able to multi-task your ingredients.
Source: Brian O'Rourke with Unnamed Inspiration