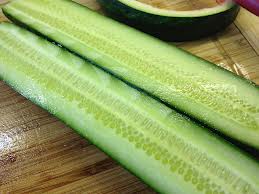 Ah, I had been expecting the call. For years, for over a decade. My doctor calls me and starts with, "About your blood test …"
I'm fine. I am NOT diabetic. But I am in that "pre-diabetic" category where I have to exercise some judgment. More judgment, Suzen tells me, that I have displayed in the past. This call was a month ago and I'm watching what I eat and drink. I monitor my glucose level and how it changes, which can be interesting. An hour of exercise can drop my level from 130 to 88.
Still, in the past month, I have not had a regular soda. I went cold turkey and, while I do miss my Pepsi, I have found there are lovely substitutes. For example, Cucumber Agua Fresca. This beverage is delicious [because it does contain sugar, for God's sake!]. The recipe below would give you about half the sugar calories of a standard soda drink, but you can control that by using less sugar.
Ah, the recipe calls for an English cucumber. I wondered just what an English Cucumber was and why it would be recommended.
Well, an English Cucumber is:
·         Longer and more narrow that the usual slicing cucumber
·         Is often bought wrapped in plastic and is unwaxed [you can use without scrubbing, although a rinse is a good idea]
·         Has much smaller seeds — although it is most definitely NOT seedless
·         Has a sweeter taste and a thinner skin
There are over 100 varieties of cucumber, most of them grow in Asia and used in various Asian cuisines. In the United States in 2010, we grew 883,000 tons of cucumbers. But that year in China, they grew 40,709,000 tons. That's roughly 50 times more. There are four times more people in China but all that means is that, on a per capita basis, in China cucumber consumption is 12 times more than in the United States.
I can't say that in my Chinese restaurant experiences I have been deluged with cucumber options. So, if any of you out there have any comments here, Suzi and I would love to improve our cucumber comprehension.
This Agua Fresca recipe is from Tacos, Tortas, and Tamales by Roberto Santibanez. The original recipe calls putting the cucumber chunks into the water and then later sieving them out. Instead, I'm using our Vitamix — that powerfully engine blender you've seen at Jamba Juice. No straining required and you get a little feel of "body" to the beverage.
Cucumber Aqua Fresca
Yield: 4 cups
Ingredients:
1 English Cucumber, peeled and cut into chunks [it is not necessary to seed the cucumber]
½ cup sugar
Juice of one lemon, about ¼ cup
3 cups of water
Cucumber slices or mint leaves for garnish
Ice cubes [optional]
Club soda [optional]
Preparation and Options:
Put the cucumber chunks, sugar, lime juice and one cup of water in the Vitamix. Blend on low at first, then increase to a high speed and blend for one minute. Reduce the speed and add the final 2 cups of water. Increase the speed again and blend away.
Store, refrigerate and enjoy.
At serving time, you have many options. You may wish to add sugar — something I would never do. Not anymore.
You can garnish with cucumber slices or mint sprigs. To keep the chill, you can add ice cubes.
For some fizz, Suzen like this beverage topped off with club soda, say 80% agua fresca and 20% club soda.
If it is fizz you want, of course, there is always the Proseco option. Or a splash of gin or vodka.
So, this agua fresca can stand on its own or be the basis for a very wide range of beverages.
Source: Tacos, Tortas, and Tamales by Roberto Santibanez