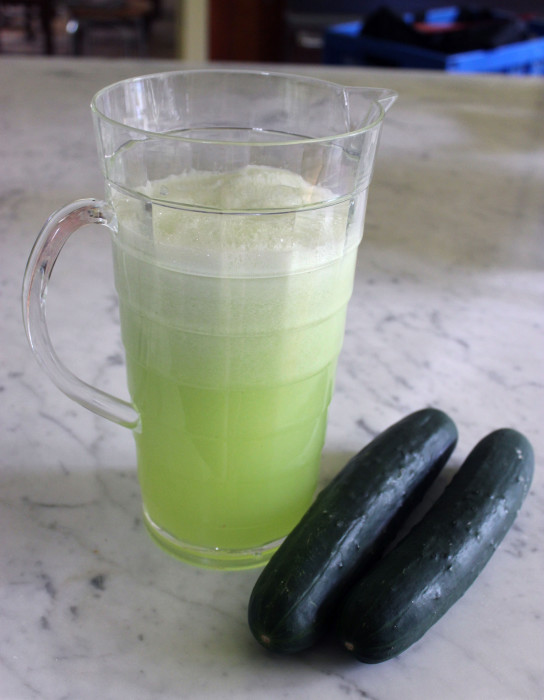 How do you consume cucumbers? And how many? The numbers can be surprising for Suzen and I both eat and drink them year round. Lot of them. I think, but I'm not sure, that drinking is the bigger portion. My newest love, an intense cucumber agua fresca, is featured here. And tomorrow, if you prefer to eat your cucumbers — or sip them — then look for a grand Green Gazpacho.
I was searching for cucumber agua fresca recipes and encountered this one from Epicurious. It's different from others because it contains a lot of sugar and a lot of lime juice, too. You can adjust the sugar content if you want to make it a tad less sweet. I've done that and also substituted lemon for lime juice — the result in that case was less tangy and just pure cucumber flavor. Is one version better than the other? I vacillate and I'm making them both.
A tall, cold glass of cucumber agua fresca has become as necessary as my garden gloves and trowel when I'm gardening away.
Oh, yes, I'm planting cucumbers.
---
Cucumber Agua Fresca with Lime Juice

Yield: 8 servings

Ingredients:

4 ½ cups coarsely chopped seeded peeled cucumbers (about 4 medium)
4 cups cold water
2 cups ice cubes
1 cup sugar
⅔ cup fresh lime juice
2 large pinches of salt
Preparation:
If your blender is large enough, place all the ingredients in the container and process until beyond slushy but not smooth. You want the ice to remain somewhat fragmented. If you need to, process in two or three batches that's fine.
Serve in tall glasses filled with additional ice cubes.
Source: Epicurious

Photo Information [bottom]: Canon T2i, EFS 60mm Macro Lens, F/4 for1/30th second at ISO‑800