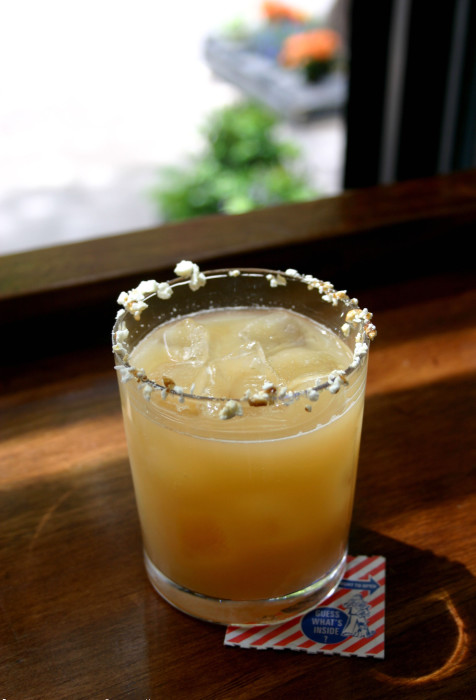 Sunday is Father's Day and baseball season is rolling along. You dad or husband may need a glass of something forceful as he relaxes in front of the TV this weekend cheering on his favorite team.
Master mixologist Cody Goldstein from The Upholstery Store in NYC created this beverage for just this weekend. As typical, Cody is at work here combining this and that ingredient into a beverage accomplishment of sweet, sparkling flavor. Bourbon, beer, honey not syrup and even popcorn are masterfully assembled here. It's a work of inspired imagination.
There are two branding elements here you do want to understand. The Makers 46 is the new, extra-aged, and extra smooth bourbon from the Maker's Mark folks. And the Crown Maple Syrup is from a new Hudson Valley farm that is elevating the "syrup" experience to visiting a winery. More to come about Crown Maple on this blog — Suzi and I are going to visit in a week and taste and taste and taste.
Normally orgeat syrup is made from almonds, but Cody's recipe here uses those ever-loved honey roasted peanuts.
Before the Football may rule the network ratings, basketball dominates March, but baseball will always remain the national pastime. Want to have a wonderful day? Visit the Baseball Hall of Fame in Cooperstown, the best museum you ever visit. And I'm a Jet's fan.
---
Favorite Pastime

Yield: 1 cocktail

Ingredients:

1 ½ parts Maker's 46
½ part malt style beer
¼ part honey nut orgeat, recipe below
¼ part Crown Maple Syrup
Crown Maple Syrup and caramel popcorn for garnish
Preparation:

Coat the rim of a rocks glass with maple syrup and dip into finely chopped caramel popcorn. In a cocktail shaker combine Makers 46, honey nut orgeat, Crown Maple Syrup and shake with ice. Double strain into the rocks glass over fresh ice and top with beer.
---
Honey Nut Orgeat

Yield: 3+ cups

Ingredients:

2 cups honey-roasted peanuts
3 cups water
3 more cups of water
½ cup granulated sugar
Preparation:

Place 2 cups of honey roasted peanuts in a large bowl and add 3 cups of water. Allow to sit for 30 minutes then strain out of water. In food processor pulse together to form a paste. Put mixture back in bowl and add another 3 cups of water and allow to soak for 5 hours. Place in cheese cloth and strain out all liquid into a glass bottle. Pour ½ cup of cane sugar into bottle and shake vigorously until dissolved. Add 1 cup of vodka and shake then cover and store for up to 2 weeks.
Source: Cody Goldstein from The Upholstery Store, New York City