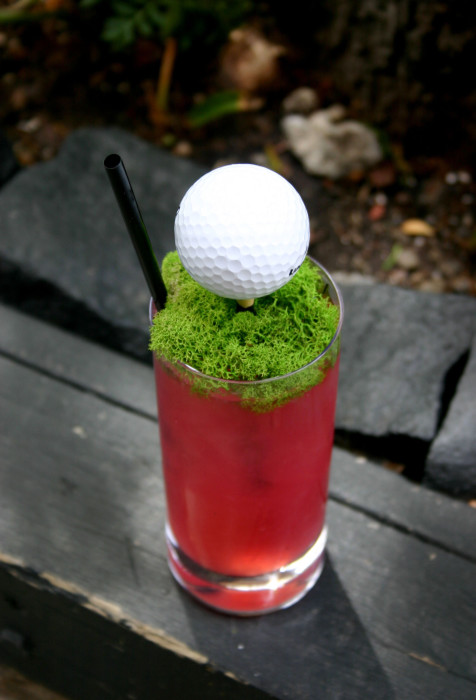 Master mixologist Cody Goldstein from The Upholstery Store in NYC is a playful man. Here is his fourth cocktail created for this Father's Day weekend — you can find the others here by searching for "cody." If your dad or husband is a golfer, this beverage celebrates that activity. The Fore! Dad is the ultimate whimsical golfer's cocktail.
Cody is both playful and creative, a combination that can lead to many beverages of distinction. Enjoy a beverage at The Upholstery Shop and you'll find a glass, a straw, the beverage, and then always the other stuff. Here that "stuff" is moss and a golf ball. The moss you can nibble on. Not the golf ball. I've eaten moss, flowers, popcorn and other tidbits at Cody's bar counter. If you are ever in the West Village of NYC, you should drop by and see how beautifully complex, and edible, his creations are.
This beverage calls for Tres Agaves Blanco Tequila, one of the liquor brands that Cody has singled out for his beverages. If you have never taste tested tequila, you might want to spend an hour at your closest tequila bar — or The Upholstery Store The world of tequila, while as geographically diverse as that of wine, still has enormous culinary spread. The flavors, smokiness, color, and viscosity can vary enormously. Yes, there is terroir for tequila, just as for wine.
That tequila complexity empowers a mixologist to fashion beverages with unexpected ingredients. Here, Orange Blossom Tea is the unanticipated partner for tequila. Unexpected but lovely to sip.
Is golf a sport? Oh, I won't go there. I'll settle for my own glass here. And I don't play golf.
---
Fore! Dad

Yield: 1 cocktail

Ingredients

2 parts Tres Agaves Blanco Tequila
4 parts cold brewed Youthberry Orange Blossom tea
1 ½ parts lemon juice
1 part simple syrup
5 dashes Angostura Bitters
Splash of Club Soda
Reindeer moss for garnish
Preparation:

Combine Tres Agaves Blanco Tequila, cold brewed tea, lemon juice and simple syrup in a cocktail shaker and dry shake for 5 seconds. Pour into Collins glass with ice and top with soda water. Add 5 dashes of angostura on top and garnish with reindeer moss.
Source: Cody Goldstein at The Upholstery Store