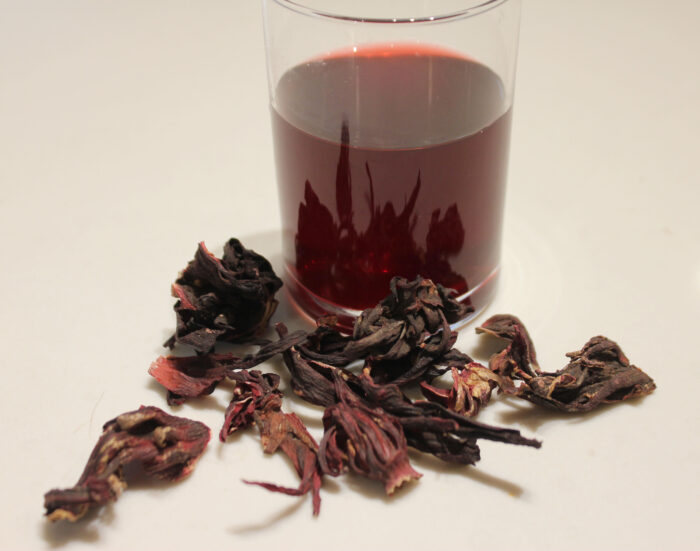 In the lovely new Tex-Mex cookbook Ama, you will find exciting recipes for food and for beverages. That picture shows hibiscus syrup made with dried hibiscus flowers. What to do with that syrup? Smell it for one thing. Smell it. Then, add it to club soda. Or accelerate your lemonade.
Or, make the Snake's Blood Cocktail with rye and Aperol. The recipe for that gem follows below.
Making your own syrup is just a simple pleasure of life. Yes, your refrigerator will fill up but that just means you need to drink more. Enjoy each sip.
---
Hibiscus Syrup Syrup
Yield: 1 ¾ cups
Ingredients:
1 ½ cups [360 ml] water
2 tablespoons dried hibiscus flowers
¼ cup plus 2 tablespoons [75 g] sugar
Preparation:
Combine the water, hibiscus flowers and sugar in a small saucepan and bring to a boil, stirring occasionally to dissolve the sugar. Lower the heat to medium-low and reduce the mixture by about a third. Strain into a heatproof jar and discard the solids. Cool the syrup, and store, covered, in the refrigerator for up to 1 month.
---
Snake's Blood Cocktail
Yield: 1 cocktail
Ingredients:
1 large ice cube, plus more ice cubes for the cocktail shaker
1 ½ ounce rye whiskey
1 ounce Aperol
¾ ounce hibiscus syrup
¾ ounce fresh lemon juice
1 dried hibiscus flower for garnish
Preparation:
Put the large ice cube into a chilled rocks glass.
Pour the rye, Aperol, hibiscus syrup, and lemon iuce3 into a cocktail shaker with ice. Shake vigorously and strain over the large ice cube in the corks glass. Serve immediately, garnished with the dried hibiscus flower.
---
Source: Ama, A Modern Tex-Mex Kitchen by Josef Centeno [Chronicle, 2019]
Photo Information: Canon T2i, EFS 60mm Macro Lens, F/4.5 for 1/50th second at ISO‑400