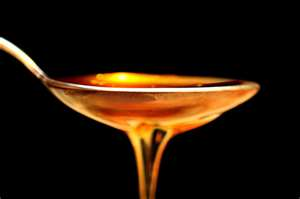 Last week I posted a Passover cake that used a Honey Cinnamon Syrup. This wonderful syrup itself  is a mighty force that has many uses. You can apply it to ice cream, adorn pound cake, or apply to a warm corn muffin for breakfast.
Or, you can drink it. Put 3 ounces of ginger ale, 2 ounces of dark tequila, and 1 ounce of this syrup in a blender. Add ice, whirl away, and then enjoy. The combination of tequila, honey, and cinnamon offers you a modest jolt. Less than 8 on the Richter scale, but still formidable.
Honey Cinnamon Syrup
Yield: 1/2 cup
Ingredients:
⅔ cup granulated sugar
¼ cup honey
⅓ cup orange juice
¼ cup water
1 tablespoon lemon juice
¼ teaspoon ground cinnamon
Preparation:
In a medium saucepan, combine the ingredients. Heat to dissolve the sugar and simmer for 5 to 10 minutes, until the mixture becomes syrupy. Cool well.
Stored in a closed container in the refrigerator for up to one week. Warm before using.
Source: A Treasury of Jewish Holiday Baking by Marcy Goldman