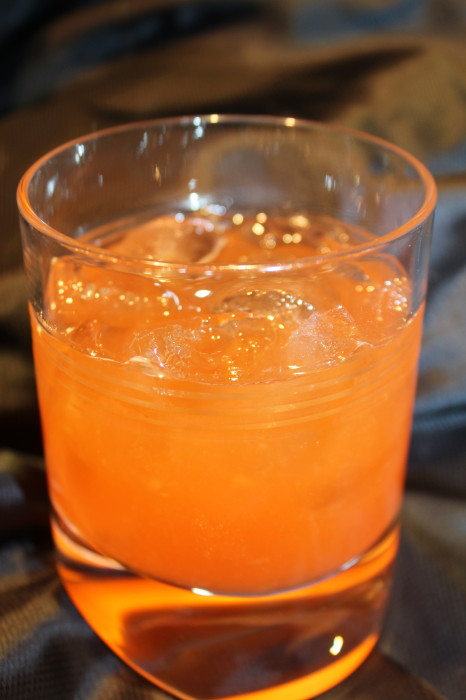 "It looks like Fanta," Suzen said.
I was noble about it. Not crestfallen. Not angry. "Taste it," I encouraged her.
"This is good!" she said with surprise.
"That's why I went out," I said. "Grapefruit vodka."
"I thought you'd always make your own?" she was puzzled.
"Not today. Our liquor guys around the corner reassured me this one is fine."
"What else is here?"
"Stuff."
"What kind of stuff?"
"Guy stuff."
She stopped asking questions and kept sipping. And eating. We had this lovely drink with bourbon and pepper pasta served with roasted farmers' market tomatoes. It all put a gentle, satisfying heat in our mouths.
Drink books appear on the bookshelves every week. Most are good, but few are revolutionary. I like the Modern Mixologist because it does not come with the umpteenth recipe for a margarita. No, this book is a frigate of new idea shipping to your home bar. Here, in the Luce Del Sole, one of the cardinal rules of bartending is ignored: you always balance sweet and sour. True, this drink uses honey syrup, but the liquors here are both sour: grapefruit vodka and Aperol. Add in some lemon and orange juice, and this drink will make you pucker. Then pour more. That color? Well, that's what happens when the crimson of Aperol is gently tinted.
The only sweet component here is some honey syrup, which does NOT taste like simple sugar syrup. It tastes like honey and that hearty flavor always strikes me as distinctive but not sweet. [I know, years of sugar have destroyed my ability to discern flavors. Still, I struggle to function.]
To make the honey syrup, put a half cup of honey in a sauce pan and heat on low while stirring. As the honey becomes less hard to stir, add a half cup of water. Stir until well blended. Allow to cool and store in the refrigerator until ready to use. With a strong, smoky honey you have the perfect syrup for this drink and for that next margarita made with dark, golden tequila.
Luce Del Sole
Yield: 1 cocktail
Ingredients:
1 ½ ounces Charbay Ruby Red Grapefruit Vodka
¾ ounce Aperol
½ ounce honey syrup
1 ounce freshly squeezed lemon juice
1 ounce freshly squeezed orange juice.
Preparation:
Place the ingredients in a cocktail shaker. Add ice, then shake until very cold. Serve the cocktail glass of your choice with crushed ice.
Source: Modern Mixologist by Tony Abou-Ganim
Photo Credits: Canon T2i, 18-55MM Macro lens, F/4.5, 1/60th second, ISO 400