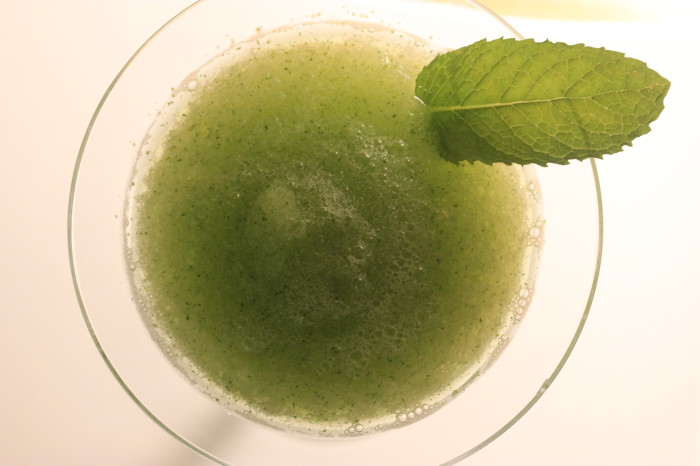 I love lemonade year round. Not just on hot days, but right there when the snow is falling. Gratefully, it was in the 70's today. Snow is far, far away. Mint, on the other hand, is readily available.
Our mint patch is two by five feet. Plus the assorted runners that invade every other bed within reach. Far reach. To some mint is an herb. To us, it can be more of tasty weed.
But a useful one. How many ways are there to make mint lemonade? A lot, as any web search will show you. The ingredients are often the same, but vary in quantity: more or less mint, more or less sugar. And the techniques differ. Do you make a mint-sugar syrup? Just add the mint leaves to the liquid at the end at let the flavor seep in? Or do you grind those leaves down to molecules in your blender, or better, your Vitamix.
For the ingredients, I show you a range below. That lets you adjust depending on your sweet tooth and the intensity of the mint. Our mint, as I pointed out, is fresh from the garden. There have been enough warm days already that the mint is truly abundant in flavor. So, I used ½ cup of mint leaves for mine. But using 1 full cup is clearly your option.
How to get the mint flavor into the drink? Blender, easily. A minute in the blender or Vitamix generates scads of flavor and beautiful texture on your tongue.
This beverage is fine just as it is. However, it can do double duty as a base vehicle for a minty cocktail. Fill a cocktail glass with ice and this lemonade. Then top it off with a shot of vodka, flavored vodka, gin, rum, or even whiskey – this is a different way to get a lemony Mint Julep.
Mint Lemonade
Yield: 4 servings
Ingredients:
1 cup freshly squeezed lemon juice
1 cup water
½ to 1 cup fresh mint leaves
¼ to ½ cup granulated sugar
3 cups of ice cubes
Preparation:
Combine all the ingredients in a blender or Vitamix and process until smooth. You can adjust the amount of ice to get the thickness you desire.
If you don't want to use all the lemonade now, you can freeze the leftovers. To use again, defrost moderately, then reprocess in the blender. You may, at that time, want to add more fresh lemon juice or sugar to get the flavor you want. I've found that the defrosted lemonade, while good, does not have quite the bite or sweetness of the original.
One option you have here is to begin by separately combine the water and sugar in a saucepan and just bring to a boil while stirring. Let the resulting sugar syrup cool slightly before using. This takes longer, but give you a different sense of sweetness and tongue feel.
Sources: multiple web sites.
Photo Information: Canon T2i, EFS 18-55mm Macro Lengs, F/5.6 for 1/80 second at ISO 1600