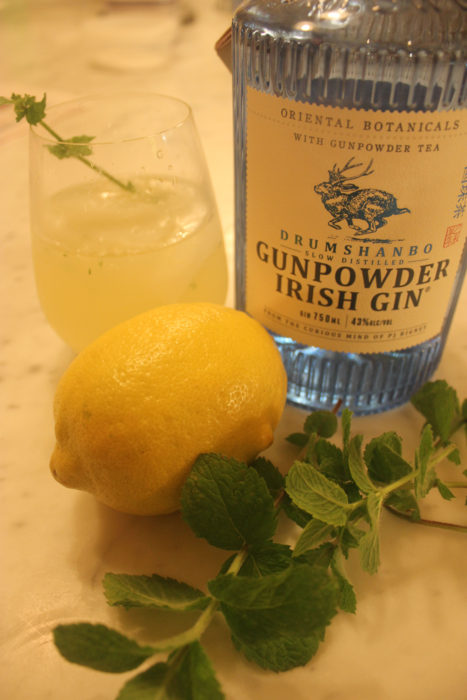 My herb garden overflows with mint, so I naturally think of a mojito. And rum.
Ah, but there is life beyond rum. Use gin instead. Now, that's a simple sentence to utter but a difficult one to implement. Rum is, well Captain Morgan aside, rum. But gin is a whole world unto itself. There are hundreds of botanical ingredients used to make the many gins around the world. So, I will say in advance, this drink will taste quite differently depending on the gin you use. Here, I'm using a lovely, lively Irish product made with these botanicals:
Juniper
Angelica
Orris Root
Caraway
Coriander Seet
Meadowsweet
Caradmom
Star Anis
Lemon
LIme
Grapefruit
Gunpowder Tea
Yes, tea. The flavor of this gin is wonderful and give this mojito a bright array of flavor highlight. Give it a try.
---
Gunpowder Gin Mojito
Yield: 1 big one or 2 conventional
Ingredients:
30 mint leaves
2 ounces mint simple syrlup
1 large lemon, quartered, then each quarter halved
4 ounces of Gunpowder Gin
Ice
Sprigs of mint for garnish
Preparation:
Put the mint leaves, simple syrup. and lemon pieces in a steel cocktail shaker. Muddle for several minutes. You may want to pour much of the liquid out and focus more on the mint leaves which will be crushed at the bottom.
Reassemble all the ingredients, add the gin, add ice, and shake until cold.
Pour into a glass, add ice, and garnish, if you wish with a sprig of mint.
---
Source: Brian O'Rourke
Photo Information: Canon T2i, EFS 60mm Macro Lens, F/3.5 for 1/30th second at ISO‑800