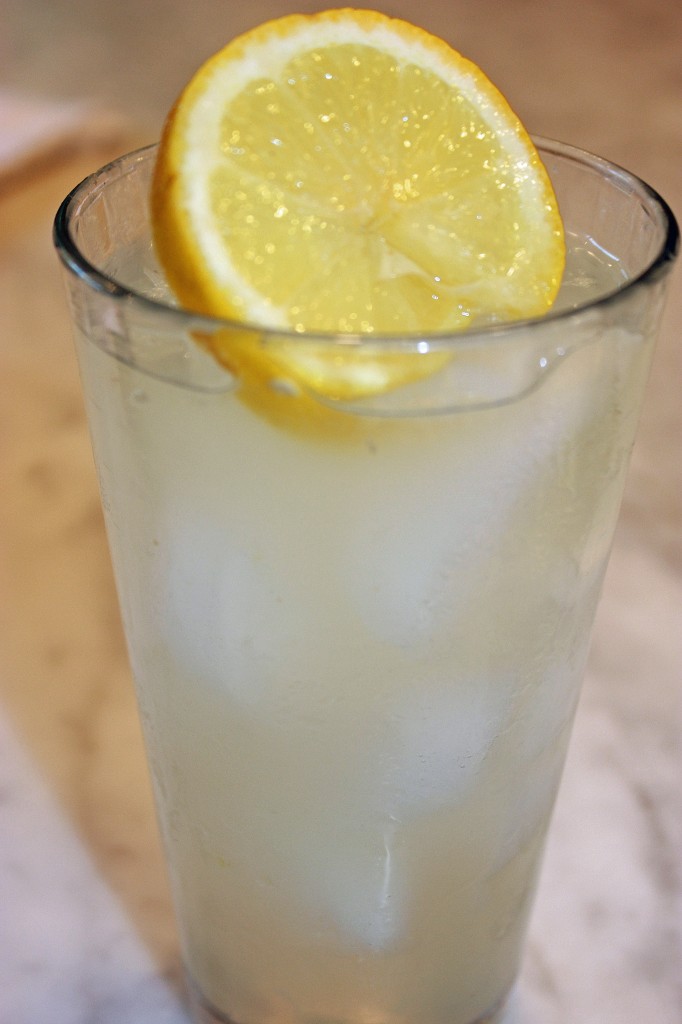 Here is how we found our way to the best lemonade yet.
"Are you open for lunch?" I asked. It was 12:01 at the Pig Bar in Saugerties, New York.
"We are. We just are." The bar there is huge: high, wide, and thirty feet long. The voice came from a little girl. Pretty and energetic, she showed Suzen and me to a table. "Any table," she said. We were the first customers of the day.
By chance, I asked her, "Do you have lemonade?"
"I'll make you some."
In the midst of a very good Crabcake sandwich, I had still another request: "Can I have more."
Suzen had tasted my beverage and smiled. "Not too sweet! That's better for you." And I loved the flavor.
We asked how she made it, we watched her, and now here is the recipe.
Muddled Lemonade
Yield: 1 ½ cups, enough for one large beverage
Ingredients:
1 lemon
1 cup of cold water
½ cup simple sugar syrup [or less if your wife is watching]
Ice cubes
Preparation:
Wash the lemon and cut off the ends. Slice the lemon into 4-6 thin slices. The operative word here is thin.
Put two of the slices in the bottom of a cocktail shaker and muddled them to pieces. Truly, into lemon mush. Then add two more slices and repeat. Continue until all the slices are in fragments.
Why not muddle them all at once? You can do a much better job two slices at a time.
Add the water and sugar syrup. Cover and shake.
Pour into a tall glass. You can strain out the lemon fragments as you pour, or let some in, or let them all in and then pull a few of the chuncks out.
Add ice and stir. Allow to sit for a couple of minutes then enjoy. Garnish with mint if you desire.
Source: Brian O'Rourke inspired by that nameless, talented bartender