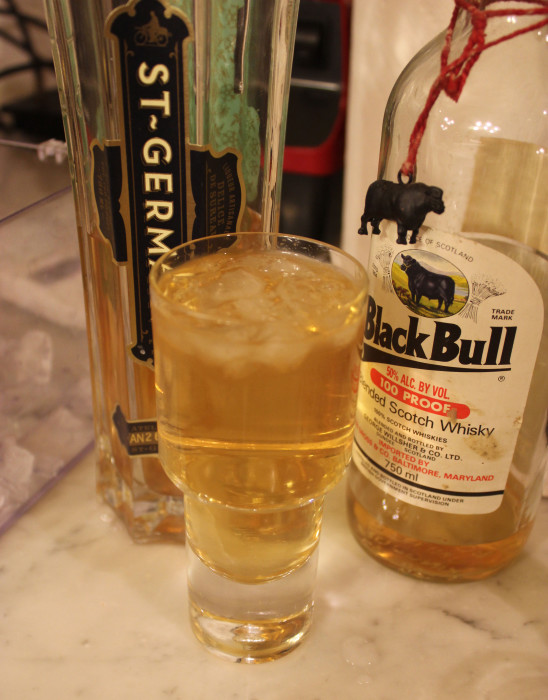 In his tribute to whisky, titled Whisky: The Manual, Dave Broom surveys the best in spirits and offers some delightful cocktail recipes to put that whiskey to use. There are classic cocktails in Whisky and new ideas, like this one, too.
The best thing about cocktail books is the standing invitation to innovate. So, I've written below Dave's exact recipe for his Paisley Patter, yet I did depart widely from the original recipe.
I did not have on hand Great King Street Whisky, but I had some damn good scotch. I did not have elderflower cordial, but I had St. Germain liqueur. I passed on the tarragon and I passed on the lemon garnish. And, to complete my heresy I added some simple syrup. So the beverage you see pictured is equal parts scotch, St. Germain, simple syrup, and soda, plus a heavy hand of grapefruit bitters.
My apologies to Dave. I'm sure his creation is wonderful, and I do encourage you to try it. But I will say I will be making my version over and over again. The combination of scotch and St. Germain, accented grapefruit bitters, is an excellent marriage. You probably need the soda to tone the alcohol down. And my addition of simple syrup is not necessary, but simply personal preference. My "equal parts" of simple syrup is at the high end and you could easily do with less.
Isn't that what mixology is all about?
---
Paisley Patter

Yield: 1 cocktail

Ingredients:

1 1/3 ounces Great King Street Whiskey
Dash of grapefruit bitters
2 teaspoons elderflower cordial
3 springs of tarragon
Soda
Lemon garnish, to twist
Preparation:

Build the whisky, bitters, and cordial over cubed ice in a Sling glass. Stir, add more ice and the tarragon, and top with soda. Garnish with a lemon twist.
---
Source: Whisky: The Manual by Dave Broom [Mitchell Beazley, 2014]

Photo Information: Canon T2i, EFS 60mm Macro Lens, F/4 for1/30th second at ISO‑800