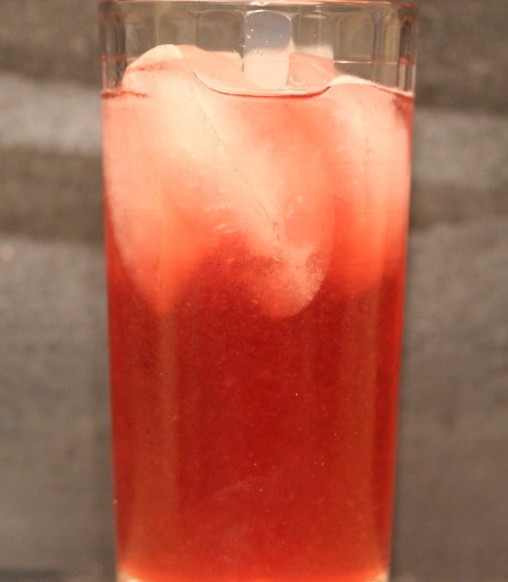 Man goes into a bar. [Sorry, for timing reasons it has to be a man.] The bar is in New York City. The man pulls his stool up to the edge of the bar. Sawdust shuffles as the stool legs scrape along the floor.
The bartender, large and flush, says, "What'll you have?"
The man says, "A shrub."
What does the bartender do?
The correct answer depends on what time period we are talking about. If the time is now, then the bartender will turn, pick up a cell phone, and discretely call the nearest NYP precinct. A man drinking a shrub, or wanting to, is a sign of psychological disorder that probably calls for a minimum of 48 involuntary confinement.
On the other hand, if the time is two or three hundred years ago, the bartender will simply say, "What flavor."
A shrub is a fruit-vinegar-sugar based beverage that contains no alcohol, but has powerful intensity. I'll just say that the note of vinegar as you put your nose to glass can be strong, but the flavor of the beverage itself has just a pleasantly sour note on top of the underlying fruit base.
If you love lemonade, if you want a distinctive beverage with a non-alcoholic punch, then shrubs are in your future. This first recipe comes from Clementine Paddleford's The Great American Cookbook. This raspberry shrub hails from Maine, in fact from the kitchen of the late Senator Margaret Chase Smith. Her husband raised bushels of raspberries in Skowhegan, Maine – the site nowadays of the famous Kneading Conference. What goes better than bread and berries?
Raspberry Shrub Syrup and Beverage
Yield: 5 cups of syrup, enough for 20 1-cup beverages
Ingredients:
4 quarts fresh raspberries
1 quart of cider vinegar
5 cups of sugar
Preparation:
Clean and pick over the berries. In a large bowl, cover the berries with the vinegar. Cover the bowl with plastic wrap and let stand in a cool, dry place for 4 days.
When the berries are ready, strain through a fine-mesh sieve into a bowl, pressing gently on the solids and then discarding them. What remains should be clear red raspberry juice with no pulp or seeds.
In a large heavy saucepan, combine the raspberry mixture and sugar and bring to a boil over medium high heat. Reduce the heat and simmer uncovered for 15 minutes.
Pour the syrup into a bowl or bottle, cover, and chill in the refrigerator.
To make a shrub beverage: Serve the syrup diluted, with three parts cold water to one part syrup. Fill a tall glass with crushed ice and pour in the syrup. Tinkle it, whiff it, sip it, and smile.
Note: I did cheat at the end, adding a little sugar syrup to just dull the edge of the vinegar. I'm going to be practicing. And, there are other shrub recipes in the mill.
Source: The Great American Cookbook by Clementine Paddleford