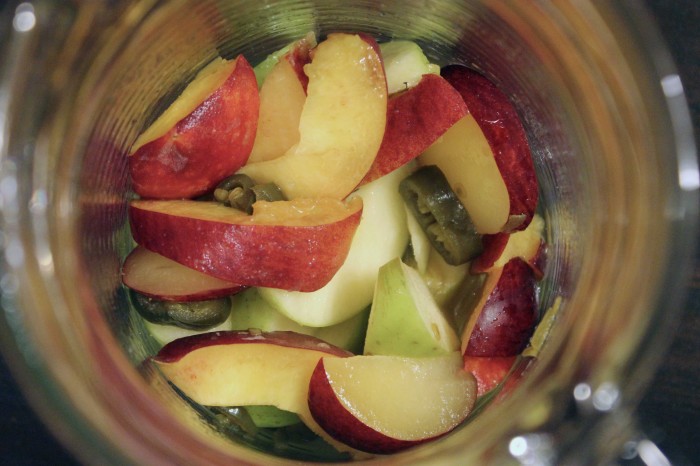 The planet is experiencing rapid growth: population, pollution, and mixologists.
Oh, don't get me wrong, I do not have bad associations with that mixologist word. In fact, when I retire, I am going to open up a B&B: Bar and Bakery.
But as the number of mixologists grow, as they each get their 15 minutes of fame while flashing out some cocktail de jour, I like to rely on the unsurpassed professionals, like Mittie Hellmich. Go to Amazon, type in her name, and you will find a battery of beverage books. Pick one to start, any one, and you are on your way to mixology heaven.
From her Sangria book, I tried this Sangria Caliente. Definitely caliente. You can see the jalapeno slices in that top-down picture. You don't see the tequila. Not too much. This is not a "boozy" sangria, but you get some tequila heat to marry with the jalapeno. And both those ingredients bounce off the fruit tones. Apple, peach, plum and apricot are all there to provide a coordinated sweetness. See, as you sip, if you detect each of the flavors.
This is a lovely sangria, definitely a first choice for a hot day. Brunch, lunch, or dinner, this is a vibrant sangria to pair with appetizers or the main meal.
Sangria Caliente
Yield: serves 4 to 6
Ingredients:
1 Granny Smith apple, peeled, cored and sliced
1 peach, peeled, pitted, and sliced
1 plum, peeled, pitted, and sliced
1 apricot, pitted and sliced
3 thin slices fresh or pickled jalapeno pepper, or to taste
2 ounces tequila
2 tablespoon sugar
750 ml bottle dry white wine, chilled
12 ounces club soda, chilled
3 cups ice cubes
Preparation:
In a large [at least 2-quart] glass pitcher, combine the fruit and jalapeno slices, tequila, and sugar, and stir until the sugar has dissolved. Slowly pour in the wine, stirring gently. Refrigerate for at least 2 hours or as long as overnight.
When ready to serve, add the club soda and stir gently with a long-handled wooden spoon. Fill the highballs, wineglasses, or other decorative glass with ice cubes and slowly pour the sangria over the ice, allowing fruit pieces [but never pepper slices!] to fall into the glasses.
Source: Sangria by Mittie Hellmich
Photo Information Canon T2i, EFS 60 mm Macro Lens, F/5.6 for 1/50th second at ISO‑3200