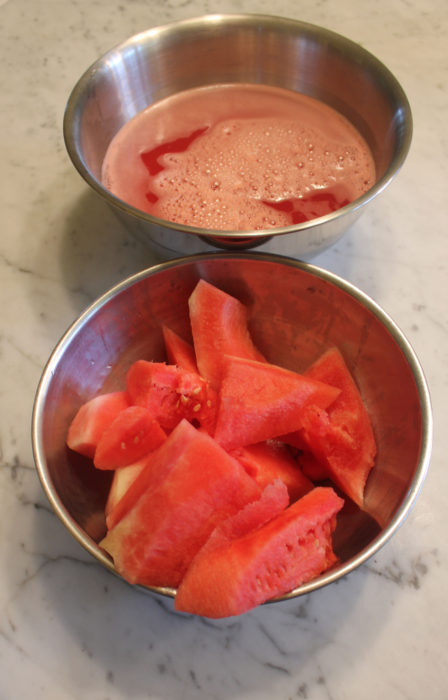 Yup, same picture as yesterday.
Suzi's cooking school, Cooking by the Book, did an early Cinco de Mayo event yesterday. I served as bartender and did margaritas and sangria.
The margaritas were happily received — I had doubled the tequila level. But the sangria was what folks raved over.
"What's in this?" I was asked.
"Secret ingredient," I replied. "Can you guess it?"
No one could. It's watermelon syrup, the topic of yesterday's post. Added to your "usual" sangria components, it adds a special note of flavor that is not "just watermelon" but truly affect the flavor, enriching it. True, the watermelon syrup is half watermelon juice and half sugar, so there is a good sugar hit here. Combing that sweetness with the citrus components gives you a well-fortified beverage.
Sangria should, of course, be made with Spanish wine. Our house red at Cooking by the Book is now Honoro Vera, a DOP Jumilla product. The wine is made with Monastrell grapes which Janis Robinson describes as "once scorned." Winemakers have learned to avoid earlier mistakes in using this grape, taking care to use enough oxygen to protect against the emergence of bad flavors. Janice notes the resulting wine as "extremely deeply purple in youth, pretty tough, and notably potent." Perfect for sangria where its own power can be matching with the "other" things you add.
---
Sangria with a Secret Ingredient: Watermelon Syrup
Yield: serves 6-8
Ingredients:
1 bottle of red wine
1 cup of watermelon syrup [please see yesterday's post; I'll put a link in here next week but there's a timing issue with WordPress right now!]
¾ cup brandy
¼ cup sugar [yes, the watermelon syrup has sugar and now you add more]
1 lime, sliced
1 lemon, sliced
1 cara cara orange, sliced
1 tart apple, sliced.
Preparation:
Put the wine, syrup, brandy, and sugar in a pitcher and stir until the sugar is dissolved. Add the sliced fruits and stir to combine.
Cover and refrigerate for at least 4 hours.
Serve in tall glasses garnished, if you wish with fruit slices.
Yes, 4 hours. You need time for the citrus juices to emerge, helped in part by that sugar. Then the entire entourage has to marry in flavor. You cannot make great sangria at the last moment. You just can't.
---
Source: Brian O'Rourke
Photo Information: Canon Snapshot G9X, F/4.9 for 1/20th second at ISO‑1000