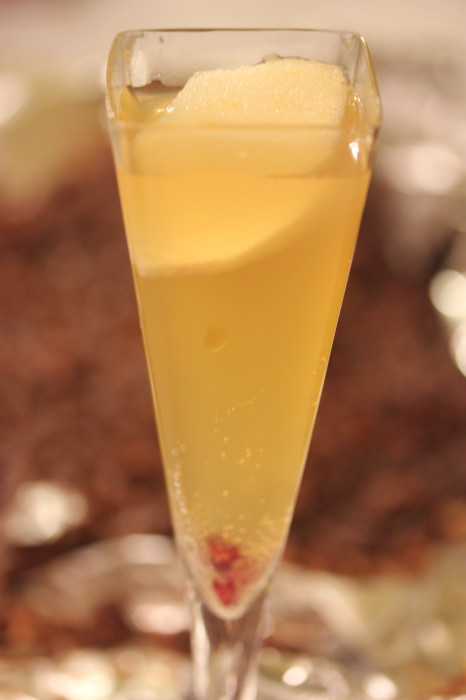 Sangria is a word that conjures up languid summer evenings. Some tapas, a pitcher of the fruity liquid, and a comfy chair. After two or three glasses, the world is fine.
Living in the Hudson Valley, we are surrounded by apples, which are often part of the fruit of our summer sangrias. But, for this Thanksgiving, we went further, using the apples and cider in a holiday sangria that is every bit as refreshing as those summer varieties.
This recipe has everything you might want: sparkling wine, fresh apples, apple cider, some cognac for a kick, and pomegranate seeds for a dash of holiday color.
By the way, it tastes sublime. Apple flavor mixed with sparkling wine. Not too sweet, because there is no sugar added, as many sangria recipes suggest you do. And it is pretty on cold winter night as the red pomegranate seeds slide past the slices of apple in the glass.
For Christmas or New Years, this is a simple yet distinctive beverage to begin your celebrations.
Sparkling Apple Cider Sangria
Yield: serves 8
Ingredients:
2 apples, peeled, cored, and thinly sliced
½ cup cognac
3 cups apple cider
1 750 ml bottle of Cava or other sparkling wine [but do try Cava first]
¼ cup pomegranate seeds for garnish
Preparation:
Add the apples to a large pitcher, reserving about ½ cup for garnishing. Add the cognac, apple cider, and chilled Cava.
Stir gently to mix. Refrigerate until ready to use, then add ice to the pitcher.
Pour into ice filled glasses, topping each glass with a couple of slices of apple and several pomegranate seeds.
Source: thekitchn.com
Photo Information: Canon T2i, 18-53MM Macro Lens, F/2.8, 1/100th second, ISO 1250