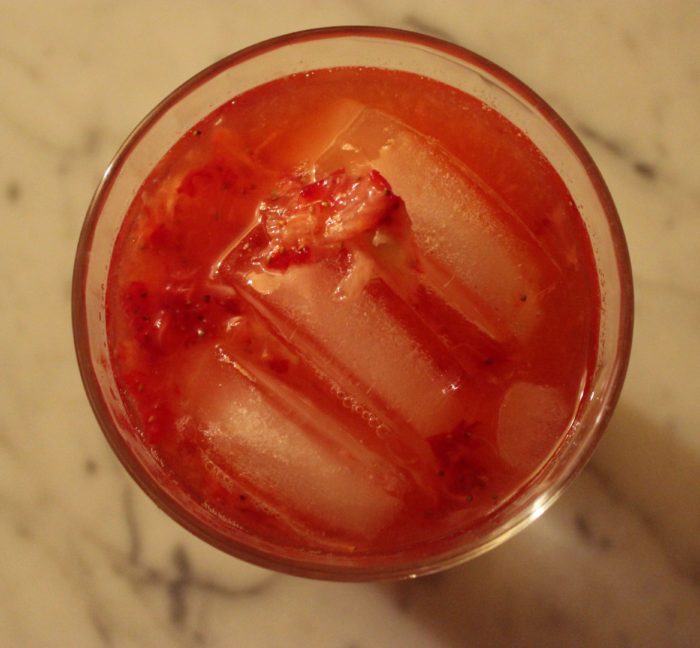 I do love fall. I do. But it was sleeting today and I'm too well aware that after fall there comes a need for snowshoes.
I try to make summer last. As long as possible.
From the wonderful new website simmerandsauce.com, here is a strawberry cocktail with a little balsamic heat to chase away the sleet and let you pretend that the days are still long and sunny. If you are not convinced at first, make another one. You will be.
---
Strawberry-Balsamic Tequila Sour
Yield: 1 cocktail
Ingredients:
2 ½ ounces sliced strawberries
½ ounce simple syrup
¾ ounces lime juice
¼ teaspoon balsamic vinegar
10 mint leaves
2 ½ ounces tequila
Mint sprig and strawberry, for garnish, as you desire
Preparation:
Fill a cocktail class with a good amount of ice and set aside.
Using a cocktail shaker, add the strawberries, simple syrup, lime juice, balsamic vinegar. Muddle the mixture until the berries begin to dissolve.
Add the mint leaves and muddle only a few more times. Note: If you muddle the leaves too much, they become bitter.
Add the tequila and a cup of ice. Shake vigorously.
Pour the mixture into the prepared glass. Garnish with a mint sprig and a whole strawberry.
---
Source: simmerandsauce.com
Photo Information: Canon T2i, EFS 60mm Macro Lens, F/4 for 1/10th second at ISO‑3200