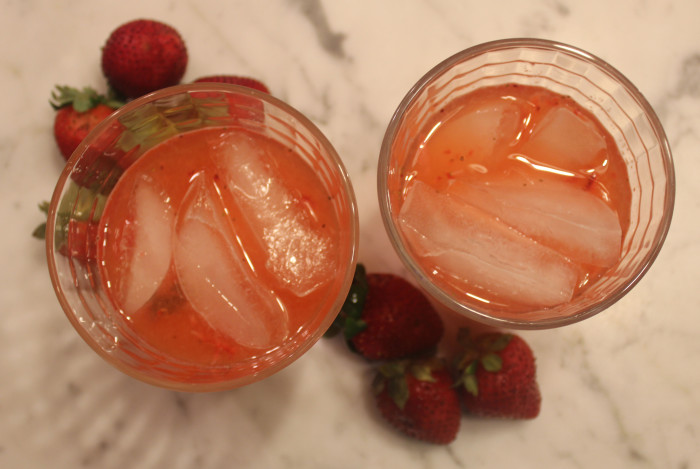 It's okay. It really, really is not lemonade. It's a cocktail. On Monday, I posted a strawberry-basil agua fresca. It's perfectly delicious, and does include some lemon juice. That strawberry-basil combination is just extraordinarily flavorful. The basil notes creep up and swirl in your mouth along with the dominant strawberry. So here, you keep the lemon juice — hence the "lemonade" title — and then employ some citrus vodka. It's fabulous and I suspect would work with other spirits, though I'm sooo happy with the citrus vodka combo that I'm reluctant to experiment.
This cocktail idea is one form Kim Haasarud's 101 Mojitos. If you do enjoy cocktails, then this book, in fact all of Kim's many books, are ones you will love. I just got my copy of 101 Mojitos and I am, literally, going through it one page at a time. It's the best job I've ever had.
I do like my beverage potent. So, I skipped the water here in the original recipe.
---
Strawberry-Basil Lemonade

Yield: 1 cocktail

Ingredients:

3 ripe strawberries, hulled and sliced, plus 1 more for garnish
2 basil leaves, plus 1 for garnish
1 ½ ounces fresh lemon juice
1 ½ ounces simple syrup
1 ½ ounces water
1 ½ ounces citrus vodka
Preparation:

In a mixing glass, muddle 3 of the strawberries with 2 of the basil leaves, the lemon juice, simple syrup and water. Add the vodka and top with ice. Shake vigorously and pour into a tall glass. Garnish with the remaining strawberry and basis leaf.
---
Source: 101 Mojitos by Kim Haasarud [Houghton Mifflin, 2011]

Photo Information: Canon T2i, EFS 60mm Macro Lens, F/4 for 1/30th second at ISO‑320