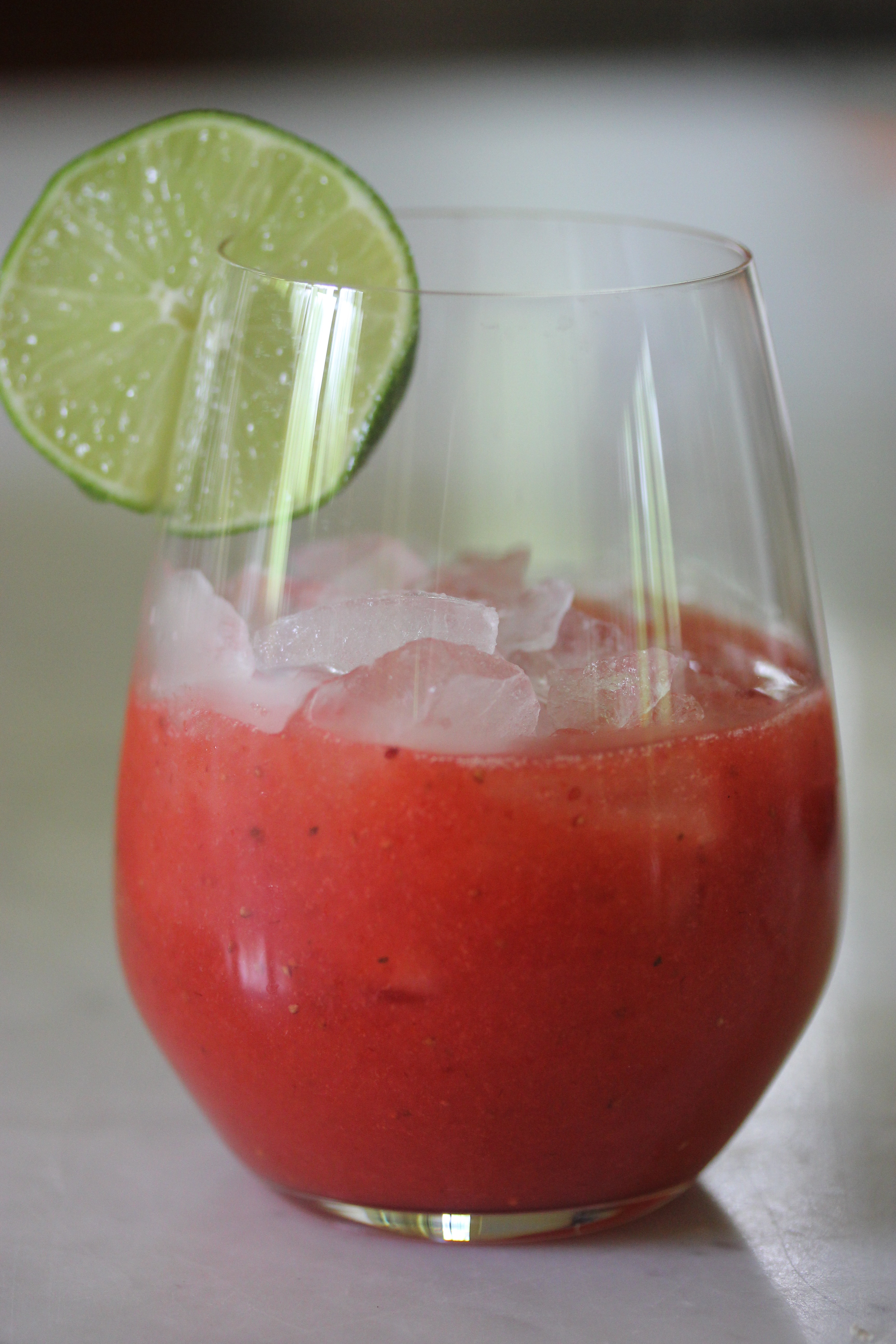 Tomorrow is the Fourth of July. Red, white, and blue day. Red is for strawberries, to be consumed in cake, pie, and beverages aplenty.
This post is really about two things: the lemonade pictured above and puree, which has multiple uses over and above mere lemonade. Once the puree is prepared, then you options are diverse:
Strawberry lemonade: 1 part puree to 3 part lemonade [canned is okay but see other blog posts here for outrageous lemonade ideas using lemons from scratch
Strawberry Agua Fresca: 1 part puree to 3 parts cold water
Strawberry Fritzer: 1 part puree to 3 parts cold club soda or seltzer water
Strawberry Margarita: see the recipe below
My 1-to-3 proportions are simply my personal preference. Depending on the flavor power of your strawberries and the ache in your sweet tooth and the acidity of your lemonade, you'll want to adjust the proportions. Do a side experiment with chilled liquids before making a major decision.
Strawberry Puree
Yield: 2+ cups
Ingredients:
4 cups of perfectly ripe strawberry halves [that's a four cup measure randomly filled with halves, not packed]
¾ cup of granulated sugar
Juice of one small lemon
Preparation:
Before you halve the berries, wash and dry them. Make sure you snip off the end and any sore spots.
Put the berries in a blender, or, better, a VitaMix. Blend for two minutes until liquefied. Add the sugar and lemon juice. Blend another minute or two. If using a blender, you may want to sieve the liquid. If you are using a Vitamix, the machine is so powerful that sieving is really not necessary.
Store in an airtight container in the refrigerator. The puree is best used on Day 1.
Source: Brian O'Rourke
Photo Information: Canon T2i, 30MM, F/4.5 for 1/50 second with ISO 800
Strawberry Margarita from Rick Bayless Frontera Grill
Yield: 4 drinks
Ingredients:
1/2 cup fresh lime juice (2 to 3 limes)
1/4 cup plus 1 teaspoon sugar
Lime wedges
Coarse salt
3/4 cup  Tres Generaciones Blanco Tequila
3/4 cup  pureed strawberries
1/4 cup  cucumber juice  (peel and cube fresh cucumber and puree in a blender)
About 1 cup coarsely broken ice cubes
Preparation:
Make limonada (limeade).  Combine lime juice, sugar and a scant 2/3 cup of water in a glass or plastic pitcher.  Cover and refrigerate for at least 2 hours (but no longer than 24 hours).
Finishing and serving the margaritas.  Rub the rims of 4 martini glasses with a lime wedge, then dip them in a dish of coarse salt.  In a shaker, combine the limeade, tequila, strawberry puree and cucumber juice.  Add ice and shake 10 to 15 seconds, then pour into the prepared glasses.
Tags: puree, strawberries