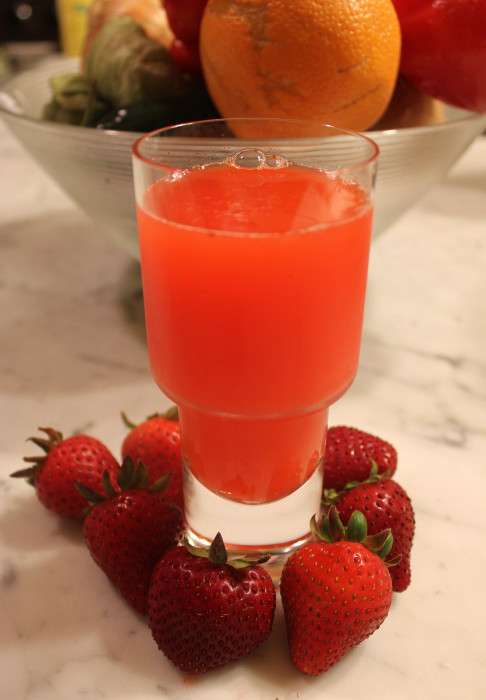 In Brown Sugar Kitchen, Tanya Holland describes the intense Southern food offered in her Oakland, California restaurant. Located on an industrial street, Brown Sugar generates lines out the door. For good reasons.
This beverage is one of the treasures at the restaurant and in this cookbook. Lemonade is always made with sugar, of course. But here, the sugar itself is prepared a day or two ahead and infused with lemon zest. The sugar takes on lovely lemon flavor amplifying the lemon juice, which I think is just the ticket for a bursting lemonade.
This lemonade is utterly refreshing and quite powerful in flavor. If you love strawberries and are a fan of lemonade, this is the ideal summer beverage for you. Tanya does say you can use frozen berries, too, so if you experience lemonade pangs next February, you are still in business.
After 6PM, you can consider adding a little rum for a spirited treat.
---
Strawberry Lemonade with Lemon Sugar

Yield: serves 6 to 8

Ingredients:

For the lemon sugar:

¾ cup granulated sugar

Zest of 2 large lemons
For the strawberry lemonade itself:

2 cups fresh or frozen strawberries, plus 4 to 6 for garnish if you desire


2 cups fresh lemon juice, plus lemon wedges for garnish


4 cups water


Ice cubes

Preparation:

To make the lemon sugar, in a small bowl, combine the sugar and lemon zest. (To make ahead, which will give you stronger flavor, refrigerate in an airtight container for up to 3 days.)
In a blender or food processor, combine the lemon sugar and strawberries and process until the sugar is dissolved and the berries are smooth. Transfer to a pitcher, and stir in the lemon juice and water. Cover and refrigerate until cold, at least 2 hours or up to overnight. Serve in tall glasses over ice, and garnish with lemon wedges.
Source: Brown Sugar Kitchen by Tanya Holland [Chronicle Books, 2014]

Photo Information: Canon T2i, EFS 60mm Macro Lens, F/3.5 for1/30th second at ISO‑640