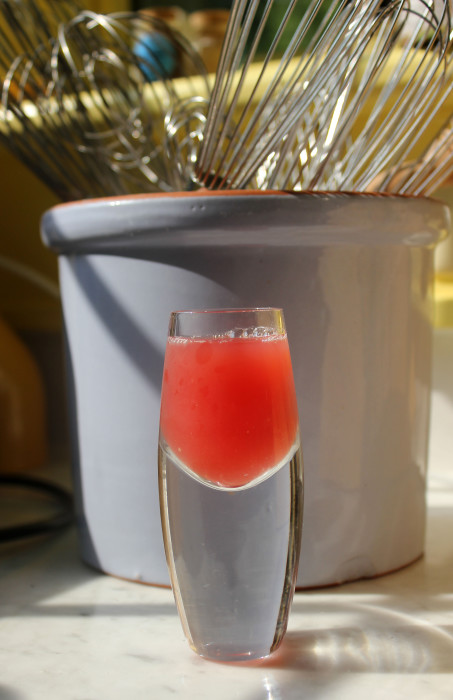 Yes, this is the same picture as yesterday. And it's the same watermelon and cucumber agua fresca made with no water added — all the liquid comes from your blender munching away on the watermelon and cucumber. That's the daytime beverage.
At night, or in the late afternoon, or for brunch, you can extend this juice to make a delicious cocktail. It's a simple way to make a pitcher full of refreshment. Here are the proportions:
2/3 agua fresca
1/3 liqueur
I began by using watermelon vodka. There are several good commercial brands, one from Austin, or you can make your own. There is an endless stream of web recipes for you to try, and I may just do that myself this summer.
And, you can use a good orange liqueur. Not simple triple sec, but a high liqueur like Grand Marnier or Mandarin Napoleon.
The trick here is to use just enough alcohol but not too much. The watermelon and cucumber agua fresca, prepared with the recipe below, has definite flavor but it's still mostly water and inherently delicate. You want to avoid overpowering the agua fresca with too much alcohol that literally erases the fruit flavors.
Feel free to experiment with proportions and liqueurs. I've not take the step of adding a shot of citrus juice or a dash of bitters. That's another experiment for another summer night.
---
Watermelon and Cucumber Agua Fresca [with no Agua!]

Yield: about 2 quarts

Ingredients:

½ cup mint simple syrup [2 cups sugar, 2 cups water, handful of washed mint leaves]
Half a medium sized watermelon
2 medium cucumbers, ideally seedless
Mint or basil leaves, stems of herbs for decoration but not flavor [optional]
Preparation:

If you don't have any on hand — I always do, always — prepare the mint syrup. Place 2 cups of sugar and 2 cups of water in saucepan. Stir to mix with the heat on medium high. Bring to a boil. Add a handful of washed mint leaves. Return to the boil for one minute, simmer for five minutes and remove from the heat. Allow to cool to room temperature. Strain out the leaves and refrigerate.
Take the skin off the watermelon and cut into medium chunks — this is going into the blender so don't worry. Remove any large seeds.
Peel, halve and seed the cucumbers. Cut into chunks.
Working in batches if your blender is small, put the watermelon and cucumber chunks into your blender. Process for a minute until well liquefied. Strain into a bowl. Yes, you want to strain because no matter how strong your blender — and we use a VitaMix — there is still watermelon residue that I prefer to strain out. If you want a "thicker" beverage, then you can forgo the straining.
Add the mint syrup to the bowl and stir until well combined.
Refrigerate and begin drinking when ice cold.
Source: Brian O'Rourke

Photo Information: Canon T2i, EFS 60mm Macro Lens, F/4 for1/250th second at ISO‑100