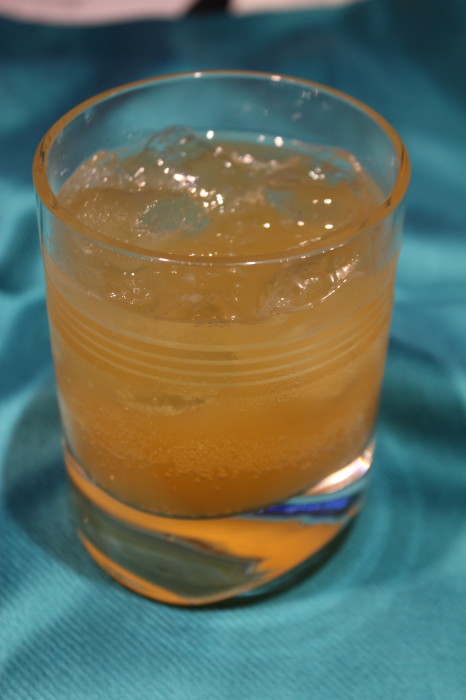 Suzen was having an event for a culinary organization in our Tribeca space. For her corporate team building events, Suzen is in charge and everything goes very smoothly on schedule. When a culinary organization comes in, and takes over the kitchen, it's a little chaotic. People chopping, stirring, preparing and talking.
"Can you make a bourbon cocktail?" the event's organizer asked me.
"Sure," I said. Then, I thought, 30 people. "How about a punch?" I suggested.
"Fine," she replied, turning to chop, stir and cook herself.
I found a recipe online, but we did not have many of the ingredients. "Now what?" I pointed the recipe out to Suzen.
"Let's go to the refrigerator," she said. Out came frozen lemonade, a bottle of mango juice, and club soda. She put them all in my arms. "Improvise," she said.
A few minutes later, I said to her, "Try this."
"Needs more."
One lemon later, "How about this now?" I asked her. She took a second sip. "Fine," she blessed this experiment.
It's fast, it's bold and it's easy to fix. You don't lose the bourbon flavor here. It is boldly there. But the lemonade and mango make it less striking on the tongue. It's just richly pleasant. Great to sit and sip. Better with some appetizers. Wonderful with a steak grilled black.
Suzen's Quick Bourbon Punch
Yield: 1.5 quarts, enough for several thirsty people
Ingredients:
1 cup bourbon
½ cup mango juice
Juice of one lemon
6 ounces of frozen lemonade concentrate, defrosted
1 liter of club soda, chilled
Preparation:
Place the bourbon, mango juice, lemon juice and lemonade concentrate in a large pitcher and stir to mix. Slowly add the club soda. Too fast and you'll generate enough fuzz for a science fiction film.
Stir to mix. Chill until you are ready to serve. Pour into ice filled glasses.
Source: Suzen O'Rourke