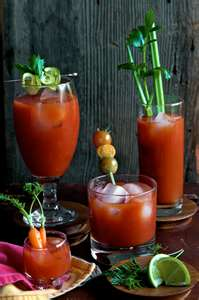 "What are you doing?" My guest actually put his hand on mine. This was not romance. I was making a pitcher of Bloody Mary's and I was about to add the horseradish. "You don't ever do that," the man said with certainty.
Suzen looked at me from across the room, her eyes a little wide. For Suzen, a Bloody Mary IS a tomato-based beverage devised to convey horseradish in exceptionally large doses. In response to this man, I made two batches, one with and one without horseradish. I announced this to the party. And then the room divided. There were "with" people who bonded together. There were "without" people on the other side of the room.
Suzen served as the go-between, announcing to each group when dinner was ready. Obviously, they sat on opposite sides of the table.
After dinnner, I sat with Suzen. "What the hell was that?" I asked. " What planet did those 'without' people come from."
We didn't know. But the next day I pulled out a dozen cocktail books, looking for recipes and trying to restore my bartending confidence. I expected to find almost uniform agreement about how to make a Bloody Mary. My research starting poorly. The two cocktail books I lean the most on are Raising the Bar and Craft of the Cocktail. They disagreed: one with and one without.  And then the other books had this spectrum of  ingredients, like paprika, I had never imagined. Suzen knew about the celery salt need, so that did not surprise us.
And the measurements? Ounces, of course, but also dashes, drops, grinds and pinches. It's like a United Nations meeting with dozens of languages bouncing off the ceiling. It's very confusing a difficult to compare in your head.
The table below compares recipes from several key cocktail books. Suzen and I love the first one from Raising the Bar: celery salt, horseradish, lemon and lime juice. Clearly there are lots of beloved opinions about this "common" cocktail. So, when you've a mind, experiment. Just remember, cocktail disagreements do not have to lead to harsh words or come to blow. People have a right to be so very wrong.
[ws_table id="1″]