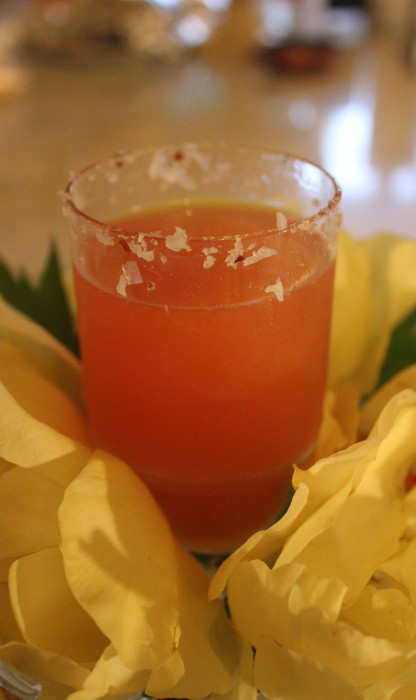 For Father's Day, master mixologist Cody Goldstein of The Upholstery Store in New York City has yet another suggestion for that important Sunday. This drink actually serves a double purpose. First, it does provide an inspired cocktail that you will find sublime. Second, it helps in the revitalization of tequila.
Tequila. The Rodney Dangerfield of spirits. No respect? Lord, we heap disrespect upon it. Tequila is wonderful and the rise of tequila bars where you can sample form a hundred bottles is evidence that tequila deserves full recognition. Too often tequila appears in margaritas made with bottled lime juice, a substance that will soon be banned by the FDA or the EPA. Or both. Nasty stuff.
And if we aren't abusing the tequila with that false lime gunk, why we dump endless fruit into it. Have you ever had a strawberry margarita where the tequila did anything but supply alcohol? Could you ever taste the smoke of the tequila?
Like any great spirit, tequila deserves consideration, even tenderness. How can tequila's dense smoky flavor be exploited? What can you add that will complement and not obscure?
Cody's idea here is brilliant, an inspiration that you will put to use for the rest of your beverage life. Marry the tequila with a flavor-rich syrup targeted to elevate the best in the tequila. Cody has created a Ginger-Honey syrup making this cocktail a spice-and-smoke delight.
And, as a side benefit, you can employ the syrup in your own mixology experiments. Try the syrup with Maker's Mark or the new Maker's 46. A combination of Cava and the syrup will make your next brunch sparkle.
The tequila suggested here is Cruz Reposada, an ultra-premium tequila. Sip this amber gem on its own, and your mouth sparkles, no tingles, with bursts of flavor. The Cruz Reposada is aged a full six months in oak barrels that once housed serious bourbons. That time in the barrel allows the transfer of hints of bourbon complexity into the natural smokiness of the tequila. It's very complex to the palate. And, of course, delightfully delicious.
The effort spent here in making this cocktail is primarily on preparing the syrup, but the syrup is essential to this cocktail. Depending on how much ginger you use, and its strength, you will want to experiment a bit as you make your own copies of The Outdoorsman. Too little of the ginger-honey flavor, and the cocktail will resemble a margarita, a good one, but still a margarita. Increase the amount of syrup and let the ginger embrace the tequila.
The recipe below comes from Cody and does call for some steps that might be ingredient-challenging for you. Smoked alder wood sea salt is probably not in your pantry, but you can find it online at several stores. In my case I did substitute flakes of chipotle salt, equally grand I suspect.
The blood orange juice can be hard to find. Blood oranges have a short season. I cheat. You can buy tubs of blood orange concentrate to have on hand year round, and I "went to my tub" here. As a benefit, I think the color is extra red.
The flowers in the picture are peonies from a spring garden. If you are going to offer a superior cocktail, then superior presentation is in order.
For full disclosure, I was contacted by a PR firm with this recipe and asked to test it and blog it worthy. I'm most happy with this cocktail suggestion. I did not receive any compensation for my efforts, but I was given a bottle of Cruz Reposado to do the testing. I'm going to use the remainder of that bottle on Father's Day, a special spirit for a special day.
Look here at Huffington for Cody's first Father's Day offering: The Lullaby.
---
The Outdoorsman

Yield: 1 cocktail

Ingredients:

For the ginger-honey syrup

5 ounces of ginger
½ cup granulate sugar
½ cup water
1 more cup of water
1 cup of honey
For the cocktail:

Lemon wedge
Flavored salt, alder wood smoked if possible
2 parts Cruz Reposado Tequila
½ part honey-ginger syrup
½ part lime juice
½ part blood orange juice
Lemon or orange twist, optional
Splash of mineral water
Preparation:

To make the syrup, peel the ginger and finely slice it. Put the ginger, sugar and water in a saucepan. Put the heat on medium-low and stir constantly for 20-30 minutes until the ginger is softened. Make sure that the heat is not too high — you don't want the ginger to burn or the water to evaporate or the sugar to caramelize.
Add the cup of water and the cup of honey. Let simmer for another twenty minutes. Remove from the heat. Allow to cool. Strain into a container to remove the ginger slices. Refrigerate and use over the next week.
To make the cocktail, rim half the lip of a rocks glass with a lemon wedge and dip into alder wood smoked salt. Add ice to the glass and set aside. Combine Cruz Reposado Tequila, honey-ginger syrup, blood orange and lime juices into a shaker with ice and shake. Strain over one large "rock" of ice.
If you wish, flame a lemon and orange twist over drink and skewer for garnish. Top with a splash of mineral water and serve.