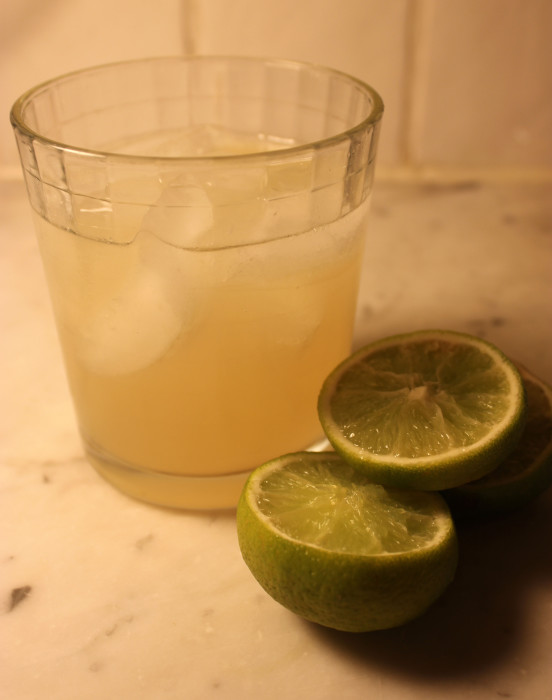 Pegu is the name of a river in Burma. When Burma was Burma, not Myanmar, and the British reigned as dominant colonists, they drank what else? Gin. They had a gentlemen's club, the Pegu Club, just outside Rangoon with a lively, creative bar. You can imagine it: men in white suits, somehow not sweating, under the fans hung from a dark wooden ceiling.
This is the signature drink from the club. I know: my photo is dark and the drink look suspiciously like a margarita.
"This is like a margarita," my wife Suzen said as she drank the sample I offered on Sunday.
"Do you want it or a G&T?" I asked, not sure if she actually happy.
"Make your own," she said. She was happy.
And, yes, there is a margarita hint to this but it's not a margarita. I use Hendrick's gin and its notes are quite unlike tequila. But the lime, simple syrup and orange liqueur do make you think about tacos. I don't think they ate tacos at the Pegu Club, however.
Recipes for this drink vary. They do call for an orange liqueur and if you use, say, orange curacao you get a richly colored beverage. I used some blood orange liqueur which gives the beverage than neutral green color.
Recipes vary about using sugar syrup, but I did. All the recipes call for a dash of Angostura bitters and orange bitters. How much is a dash? If you google, there is quite a discussion. Somewhere between ⅛ and ¼ of a teaspoon, so it is more than a mere drop. Frankly, in a beverage with this scale, I don't think you could tell the difference there. More importantly, I'm not sure you could really even sense its presence. So, when I "dash" with bitters, I'm heavy handed and leaning closer to ½ teaspoon than the mere ¼.
This cocktail is lively and lovely. We shared with a quiche rich in peppers and chorizo. The cocktail did not get lost in fray.
---
The Pegu Club

Yield: 1 cocktail

Ingredients:

1 ¼ ounces gin
¾ ounce lime juice
½ ounce orange liqueur
1 teaspoon simple syrup
1 dash of orange bitters
1 dash of Angostura bitters
Preparation:

Add all the ingredients to a shaker with ice. Shake well, then strain into a chilled glass. Add ice cubes or ice fragments. Garnish at will with citrus.
Source: GQ Drinks [Mitchell Beazley, 2014]

Photo Information: Canon T2i, EFS 60mm Macro Lens, F/5 for1/50th second at ISO‑100