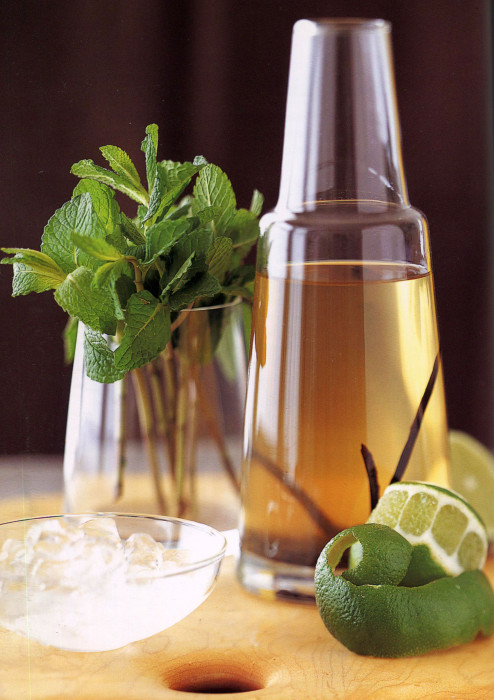 Ah, the photo grabs you, doesn't it? The photos in Infused were taken by Leigh Beisch and reflect great skill. The hardest things to photograph, besides kids, are liquids: cocktails and soups. The photos in Infused will entice you.
And then there are the recipes. We always speak about mint juleps because the two words seem to have always gone together. By itself, "julep" is a Persian word meaning "rose water." But in the 1700s, juleps began to be made in the South and they were mint and bourbon, plus sugar and water.
The Mint Julep began to be served at the Kentucky Derby only in 1938, but the two are now synonymous. They make over 120,000 each year, served in special Derby glasses.
In her book Infused, Susan Elia MacNeal write about creating you own flavored spirits. She offers over 100 dazzling recipes, including this one for a Vanilla Julep. No, you can't have it tonight, I sorry to say. Susan's recipes call for time to infuse and time to age. So, if you get started this weekend, you can have your own Vanilla Julep in August.
It will be still be even warmed then, and the horses will still be running at Saratoga.
---
Vanilla Julep

Yield: 1 cocktail

Ingredients:

1 ounce plain vodka
Dash of fresh lime juice
Dash of sugar syrup (optional)
3 mint sprigs
1 cup cracked ice
2 ounces Vanilla Bourbon (see the generic recipe below for vanilla liqueur)
Preparation:

Combine the vodka, lime juice, and sugar syrup (if desired) in a shaker. Add 2 of the mint sprigs and the cracked ice. Pour in the bourbon and stir, gently bruising the leaves. Strain into a chilled cocktail glass. Garnish with the remaining mint sprig.
---
Vanilla Liqueur

Yield: 1 liter

Ingredients:

750-ml bottle of brandy, vodka, bourbon, rum, or Cognac

2 vanilla beans, split lengthwise

1/4 to 1 cup sugar syrup

Preparation:

Decant the spirits into a clean 2-quart (2-liter) glass container with a tight-Fitting lid. Soak the original bottle to remove the label. Let dry.
Add the split vanilla beans, including the seeds, to the spirits. Allow the spirits to infuse away From direct sunlight and intense heat For 1 month. Shake the container a few times each week.
When you're satisfied with the intensity of flavor, strain the liqueur through a coffee filter into a bowl. Discard the solids. Strain again if necessary. Add the sugar syrup to taste.
Using a funnel, pour the liqueur into the original bottle (or another container). Label with the name of the liqueur and the date. Age the liqueur For 1 month away from light and heat
Source: Infused by Susan Elia MacNeal [Chronicle, 2006]

Photo Information: Infused photos by Leigh Beisch