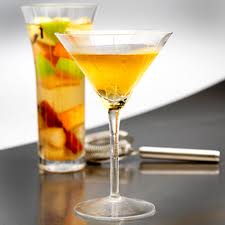 It's true fall and your farmers market is abundant with fruit, particularly apples and pears. I have this love/hate relationship with pears that cannot be solved. When good, a pear is the best fruit possible. Of course, a pear is at its peak for all of 90 minutes it seems.
How can you preserve that pear wonder? Well, yesterday, I blogged about how to make pear-infused silver tequila. It takes just 6 days to prepare. You want silver, not dark, tequila because pear is a fragile flavor and the flavor notes of dark tequila would literally run ragged over the poor pear.
When you have the pear-infused tequila on hand, how to use it? A glass, some ice, and a fireplace is one route. Here's a more adventuresome way to proceed.
Famed cocktail virtuoso Brian Miller has created this gem, the Vipera adding applejack and chartreuse to the pear-infused tequila. I advise drinking this sitting down. His recipe calls for garnishing with a slice of pear but the accompanying picture has a lot more fruit. Plus a cinnamon stick and some clove. Feel free to improvise. A few of these, and you won't be feeling anything anyway.
Vipera is a real word. You can look it up on Wikipedia. Then you'll be sure to be sitting down when you imbibe.
The Vipera
Yield: 1 cocktail
Ingredients:
2 ounces pear-infuse silver tequila
½ ounce yellow chartreuse
½ ounce applejack
Cracked ice
Preparation:
Pour ingredients over cracked ice and stir. Strain into chilled martini glass and garnish with a thin slice of pear.
Source: Brian Miller, Death and Company