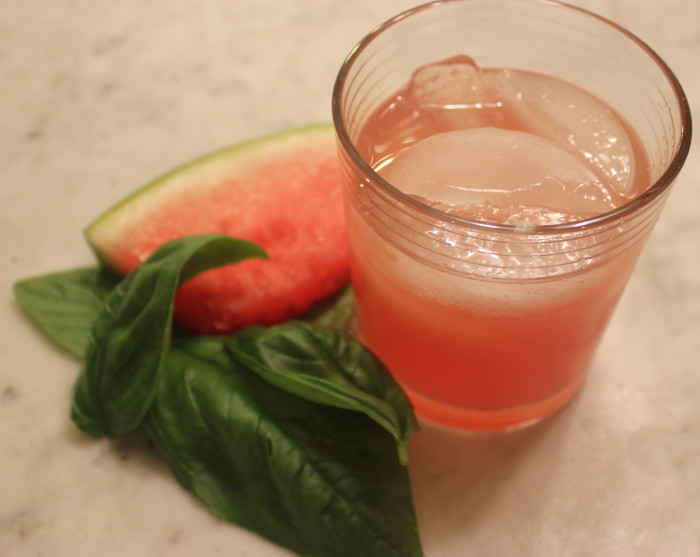 A couple of days ago I did a cookbook review for 101 Mojitos by Kim Haasarud. She's a genius. Just thought I'd make that as clear as the rum that dots the recipes in this lovely little book that will have you muddling away for, about, 101 nights.
I love watermelon in beverages. It seems to expand in flavor when combined with spirits. I do like basil, on top of my pizza. But I just never have thought of combining the two, let alone in a cocktail.
Follow the proportions here carefully. You are muddling, and muddling releases flavor notes in abundance. You want the dance on your tongue of basil without drowning out the watermelon.
This recipe calls for lime juice but I did use lemon. Yes, I have a sweet tooth and I even make my margaritas with lemon juice.
Serve a tray of these to your next dinner guests and let them see summer expanded in this most unanticipated flavor combination.
---
Watermelon-Basil Mojito

Yield: serves 1

Ingredients:

⅓ cup fresh watermelon chunks
1 ounce fresh lime juice
1 ounce simple syrup
4 basil leaves, plus sprig for garnish
1 ½ ounces light rum
½ ounce watermelon schnapps (such as Pucker; optional)
Splash of soda water Watermelon rind, for garnish
Preparation:

In a cocktail glass, muddle the watermelon with the lime juice, simple syrup, and basil leaves. Add the rum and watermelon schnapps, if desired. Top with crushed ice and the soda water. Stir well from the bottom up. Garnish with the basil sprig and watermelon rind and serve.
---
Source: 101 Mojitos by Kim Haasarud [Houghton Mifflin Harcourt, 2011]

Photo Information: Canon T2i, EFS 60mm Macro Lens, F/4 for 1/50th second at ISO‑500