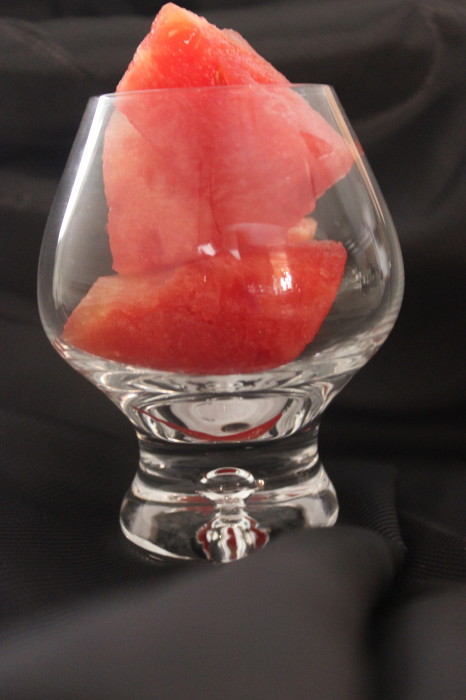 Thirsty? Nothing can quite match watermelon. I've actually started eating it by the chunk. But, but, my preference is always to have some liquid I can drink. Those watermelon chunks may be tasty but they would not easily slide down my throat.
Of course, on a hot summer day, patience can be a tad short. Like, I want something cool now. Right now. Really, right now. Here's a way to get liquid satisfaction from those lovely red flavor gems. This Asian twist is quick, simple and quite
On the streets of Thailand, carts are everywhere offering "spun fruit" or ponlamai puun. You can find these in a myriad of flavor. Myriad means a lot in a tropical country.
This recipe, from LEON: Family & Friends, uses watermelon, readily available and always something to put a bit of a chill on a hot summer day.
You can make up a blender-full of this is minutes, sip away and keep the extra chilling in your fridge. If you need, you can give the mixture a refresh with a few more ice cubes and another spin in the blender.
Here you may want to adjust the salt and amount of sugar syrup. You can always add some mint or basil leaves for an overlay of additional flavor.
Oh, you want a picture of the actual slurpy? Me, too. 4th of July is coming up. Pictures will appear.
Watermelon Slurpies
Yield: serves 4
Ingredients:
1 smallish ripe watermelon [4 ½ to 6 ½ pounds], peeled, seeded, diced, and preferably chilled
½ teaspoon salt
A few ice cubes
2 tablespoons simple sugar syrup
Preparation:
In a blender, or better a Vitamix, process the watermelon, salt, and ice cubes. Test for the sweetness level and add sugar syrup only if needed.
Source: LEON: Family & Friends by Kay Plunkett-Hogge & John Vincent