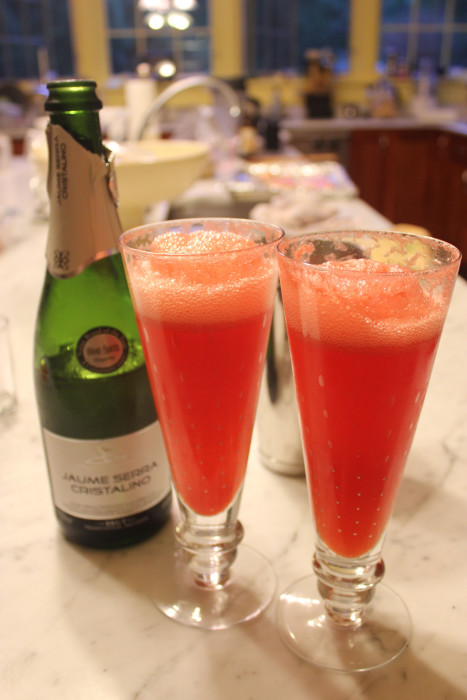 Ooops. Ya gotta be careful. Adding Prosecco as the last ingredient here has alcohol hitting sugar and you can generate foam. But I found it fun to let my tongue tangle in those bubbles and occasionally some foam would wander up my nose. I did not care.
This drink comes from Aperitivo by Marisa Huff, a new book dedicated to the wonderful close of day bites and beverages you can find in Northern Italian cities. This treat comes from the famed Hotel Cipriani's Gabbiano Bar.
I'm showing you below the recipe just as it comes from the book. Is this what I made for me? Oh, no, I'm did my usual changes for cocktails. I substituted Aperol for Campari, preferring a milder set of herbs and spices. And, instead of Prosecco, I used Spanish Cava. It's a matter of personal preference. In a taste off at the home of my Italian friend Gianni, we tried Prosecco and Cava. Gianni, for some reason, preferred Prosecco. I really loved the Cava, the world's bestselling sparkling wine.
Gianni mumbled something about my opinion. Did he say "peasant?" Ah, we are still friends and if wants to serve Prosecco at his home, he can. He can even bring Prosecco to my house. I'm happy to hold the Cava in reserve.
This recipe easily scales. You can make it by the pitcher. It's not too alcoholic, so it's quite suitable for a brunch where people literally need to eat and drive off for the rest of their weekend. Or, you can just sit around the table, bask in the summer heat, and empty one pitcher at a time.
One last possible change: an ounce of simple syrup will change this beverage from a little tart to just sweet enough. No matter what your wife says.
---
Watermelon Spritz

Yield: 1 modest beverage, hardly enough

Ingredients:

1 whole star anise pod
¾ ounce Campari
1 ½ ounces fresh watermelon juice, for about ½ cup diced watermelon
3 ounces Prosecco
Watermelon slices or fennel fronds for decoration [optional]
Preparation:

Rub the rim and inside o f a large red wine glass with the star anise, then fill the glass with
3 ice cubes. Add the Campari, watermelon juice, and Prosecco.
Lightly trace the star anise around the edge of the glass, then add it to the spirits. If you like, garnish with a thin triangular slice of watermelon and fennel fronds.
---
Source: Aperitivo by Marisa Huff [Rizzoli, 2016]

Photo Information: Canon T2i, EFS 60mm Macro Lens, F/3.5 for 1/30th second at ISO‑640