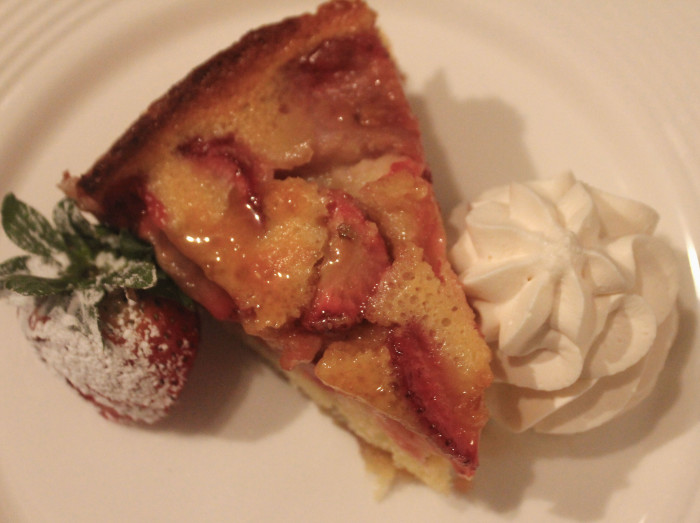 The berries are here. Wonderful luscious strawberries — and blackberries and blueberries, too. But today is a strawberry day. The combination of strawberries and balsamic vinegar is iconic. And popular. Just google "balsamic vinegar and strawberries" and you'll see there are 613,000 results. Somewhere in that stack of ideas and recipes there surely is something you'll passionately enjoy.
This cake may be one of those passions. An upside down cake always seem to be a right side up dessert. There is a level of surprise and elegance in this style of cake that is always greeted as a treasure. This is one cake you don't want to frost. That glazing goo that seeps out of the pan is something to just dip your finger in and enjoy.
The berries are here. All you need is a good balsamic vinegar and you are ready for dessert.
---
Strawberry Balsamic Upside Down Cake

Yield: serves 8

Ingredients:

For the berries:

1 pound fresh strawberries
½ cup brown sugar
½ cup golden balsamic vinegar
2 tablespoons olive oil
For the cake:

1 cup sugar
¼ cup golden balsamic vinegar
½ cup buttermilk
3 large eggs
1 ¾ cups cake flour
1 ½ teaspoons baking powder
½ teaspoon salt
⅔ cups olive oil
Preparation:

Preheat oven to 350 F for 20 minutes.
Spay an 8-inch cake pan with olive oil spray. Line the bottom with a circle of parchment paper (a helpful step for releasing the final baked cake without disturbing strawberries). Spray again with olive oil.
Remove stems and slice strawberries vertically. Arrange them in a spiral, starting with the outside layer and overlapping slightly at the bottom of the cake pan.
Combine the brown sugar, golden balsamic vinegar, olive oil, and honey in a stainless steel pan and whisk to emulsify. Bring to a boil and stir frequently until thickened enough that it drips more slowly from your stirring spoon. Remove from heat and pour carefully over the arranged strawberries.
For the cake itself, in a medium bowl, whisk together the sugar, buttermilk, vinegar, and eggs.
In another bowl, whisk together the flower, baking powder, and salt. Whisk in the wet ingredients in 3 parts, mixing to incorporate the ingredients fully each time. Add the olive oil in 3 stages, whisking to incorporate the oil into the batter fully each time. In a slow and steady stream, so as not to disturb the spiral, pour the batter over the strawberries. Bake until the top is golden and the sides pull away from the pan, about 1 hour. Cool for 10 minutes.
Run a knife between the cake and the pan to loosen the edges completely. Secure a flat plate over the pan, then quickly flip the cake. Slowly lift pan and carefully remove parchment paper so as not to disturb the strawberries.
Source: Adapted from Food 52

Photo Information [top]: Canon T2i, EFS 60 mm Macro Lens, F/4.5 for 1/50th second at ISO‑3200

Photo Information [bottom]: Canon T2i, EFS 60 mm Macro Lens, F/4 for 1/50th second at ISO‑640