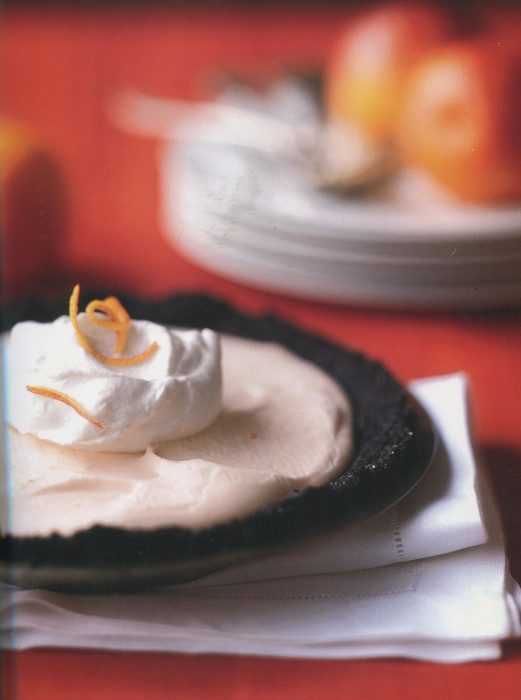 Yesterday I did a TBT review of The Baker's Dozen Cookbook an assemblage of recipes by Rick Rodger of 130 baking recipes — recipes created by a collaboration of thirteen superior pasty mavens in California. The book is filled with "best of" recipes, like the The Best Cheesecake as judged by the like of Flo Braker and Alice Medrich.
But beyond those "best of" ideas, there are many new ideas that can become classics in your own kitchen. Are you a pie fan? Chiffon pie? Do you love the power of blood oranges?
How about a Blood Orange Chiffon Pie? And to make it better, use a chocolate crumb crust. The pie recipe and the crust are here for your enjoyment. You can, of course, use other citrus choices so this pie can be enjoyed year around.
---
Blood Orange Chiffon Pie with Chocolate Crumb Crust
Yield: 1 nine-inch pie
Ingredients
Chocolate Crumb Crust, recipe follows
¼ cup water
2 ¼ teaspoons (1 envelope) unflavored gelatin
1 cup sugar
½ cup fresh blood orange juice
¼ cup fresh lemon juice
4 large egg yolks
1 tablespoon freshly grated blood orange zest (1 or 2 oranges)
⅛ teaspoon salt
1 ¼ cups heavy cream
Separately, 1 cup heavy cream whipped with 1 tablespoon of sugar and 1 teaspoon of vanilla
Six to eight 3-inch strips of blood orange zest (use a channel knife or zester), for garnish
Preparation:
Make the crumb crust; refrigerate.
Pour the water into a small, heavy-bottomed saucepan. Sprinkle the gelatin over the top and let stand for 5 minutes, or until the gelatin softens. Add ¾ cup sugar with the orange juice, lemon juice, yolks, and orange zest and whisk well.
Cook over medium-low heat, stirring constantly with a wooden sprit! until the mixture is thick enough to heavily coat the spatula [an instant read thermometer inserted in the mixture will read 185°F]. Do not allow the mixture to boil, or the yolks will curdle. Strain through a wire sieve to medium bowl to remove any bits of cooked egg white.
Refrigerate uncovered, stirring often, until the mixture is cooled but not set and thick enough to form a small mound when dropped from a spoon, about 45 minutes.
In a chilled medium bowl, beat the cream with the remaining sugar just until soft peaks form. Do not overheat or the cream won't fold smoothly into the lemon mixture. Fold the whipped cream into the orange juice mixture. Pour into the crust and cover with plastic wrap.
Refrigerate until the filling is chilled and completely set, at least 2 hours. (The pie can be prepared up to 2 days ahead, covered, and refrigerated.)
To serve, place a dollop or pipe large rosettes of whipped cream around the edge of the filling. Tie the orange zest strips into an overhand knot and garnish each dollop with a knot.
---
Chocolate Crumb Crust
Yield: 1 crust
Ingredients:
1 ½ cups graham cracker crumbs
6 tablespoons unsalted butter, melted
¼ cup sugar
Preparation:
Mix the crumbs, melted butter, and sugar in a medium bowl until well combined. Press firmly and evenly into an unbuttered 9-inch pie pan. Refrigerate until ready to use.
---
Source: The Baker's Dozen Cookbook edited by Rick Rodgers [William Morrow, 2001]