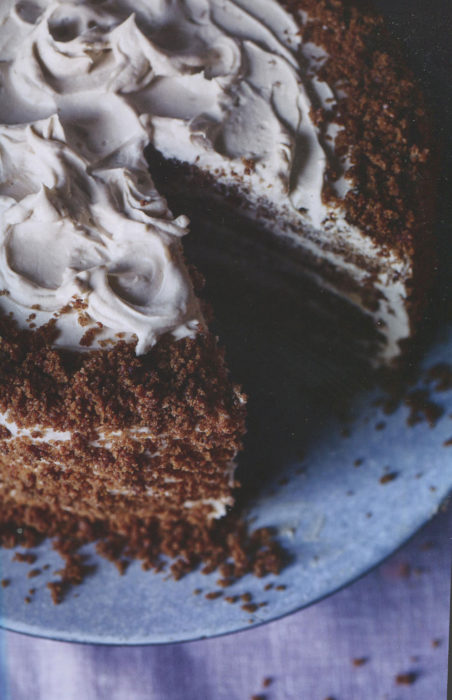 Sunday is Superbowl and this week I'm posting recipes for Super Sunday Supper. Of course, the most important part of the meal is dessert, so let's get right to it.
In her lovely book Gizzi's Seasons Eatings, Gizzi Erskine provides a spectacular dessert. That picture of the Gingerbread Latte Cake has to capture your attention. This is not gingerbread from a cardboard box at all. Gizzi credits this recipe to her baking buddy John Whaite, who won the Great British Bake Off in 2012. Try this cake and you'll know why John is so renown.
Gizzi has one warning. Make the frosting. Spread the frosting. Do not taste the frosting. It will disappear into your mouth and onto your fingers. Before you lick them.
Yes, the cake requires 6 eggs. It looks rich in the picture and it will seem even richer with that first spicy taste.
---
Gingerbread Latte Cake from John Whaite
Yield: cake for 8
Ingredients:
For the cake:
250g (9ounces) unsalted butter, at room temperature, plus extra to butter the tins
225g (8ounces) dark muscovado sugar
120g (4 ¼ ounces) golden syrup
50g (1 ¾ ounces) black treacle
6 large free-range eggs
340g (11 ¾ ounces) self-rising flour
1 teaspoon baking powder
1 teaspoon bicarbonate of soda
¼ teaspoon salt
2 teaspoons ground ginger
1 teaspoon ground cinnamon
½ teaspoon freshly ground nutmeg
For the frosting:
60g (2 ¼ ounces) unsalted butter, at room temperature
200g (7ounces) sweetened condensed milk
2 teaspoons instant espresso powder % teaspoon salt
500g (18 ounces) mascarpone cream cheese
Preparation:
Preheat the oven to 400°F. Butter three 8-inch sandwich tins, and line the bases with baking parchment.
Beat the butter and muscovado sugar until smooth and fluffy – make sure you beat all the lumps out of the sugar. Beat in the golden syrup, treacle and eggs until reasonably smooth, then sift over the flour, baking powder, bicarbonate of soda, salt and spices, and fold into a smooth batter.
Divide the batter between the 3 cake tins as evenly as possible and bake for 20-25 minutes, or until a skewer inserted into the center comes out clean. Allow the cakes to cool for 5 minutes in their tins, then invert on to a wire rack to finish cooling.
For the frosting, use an electric hand whisk to beat together the butter and condensed milk until fairly fluffy – about 2 minutes. Add the espresso powder and salt and beat in, then beat in the mascarpone until you have a very smooth, fairly thick frosting.
Once the cakes have cooled, very carefully slice each cake in half horizontally so that you have 6 thin slices of cake. The best way to do this is to place a cake on the worktop, one hand flat on top of it. With a long and sharp serrated knife, score a mark all the way 1 around the edge of the cake as evenly as possible. Use that score mark to guide your knife all the way through the cake, sawing very gently but confidently.
Set a layer of cake aside for the crumb finish. Take the other 5 layers and start to assemble. Place 1 layer on a plate or cake stand, spread it with frosting and repeat until you have 5 slices of cake sandwiched together. Chill for 10 minutes, then spread the remaining frosting around the entire cake as neatly as possible. Make a swirly pattern on the top if you like.
Crumble the reserved layer of cake into small crumbs, then, with a slightly cupped hand, press them around the sides and top edge of the cake. If any frosting peeks through, just cover it with crumbs.
---
Source: Gizzi's Seasons Eatings by Gizzi Erskine [Mitchell Beazley, 2017]