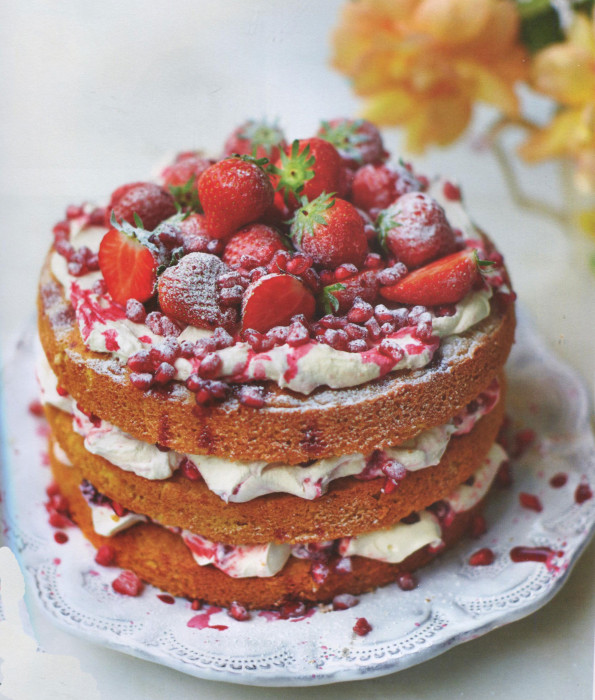 From Christmas to New Years, we may be traveling or hosting and very likely feasting. Pomegranates are in season and we can always find strawberries. From Amber Rose in the lively new book Nourish, here is her Summery Pomegranate & Strawberry Cake.
[Oh, you question the "summery" adjective? Amber grew up in New Zealand and in New Zealand when they imported pomegranates, it is December. Frankly, I don't think I could ever adjust to a land where December is summer and you drive on the wrong side of the road.]
Cultural differences aside, we all share more in common culturally than we differ. Dessert is something we all look forward to, that surprise to complete the meal and the evening. From the photo, you can see the grand visual appeal of this cake. There is taste appeal, too. The cake is made with spelt flour and employs maple syrup, not granulated sugar, plus the addition of rose water.
Combine these distinctive cake layers with the filling of berries, pomegranate, more maple syrup and rose water, plus yogurt and whipped cream, and then you surely will have the dinner-ending surprise that the season deserves.
---
A Summery Pomegranate & Strawberry Cake

Yield: serves 8

Ingredients:

For the Cake:

2 stick s + 5 tablespoons unsalted butter, softened
2 ½ cups white spelt flour, sifted
4 medium free-range eggs
3 level teaspoons baking powder
2 teaspoons rose water
1 cup maple syrup
Grated zest of 1 lemon
2-3 tablespoons kefir or milk to loosen the mix
For the Filling:

1 ¾ cups heavy cream
2 tablespoons maple syrup
1 teaspoon rose water
¼ cup Greek-style plain yogurt or kefir
6 tablespoons rose petal jam or sugar-free strawberry jam
1 pomegranate, halved and seeds removed
Squeeze of lemon juice
1 ¾ cups strawberries
Preparation:

Preheat the oven to 350°F. Grease and flour 3 x 8 in loose-bottomed cake pans.
In a large mixing bowl, cream the butter until pale and fluffy with a hand-held mixer. Add 2-3 tablespoons of the flour and beat in the eggs, one at a time, and beat until you have a light, fluffy mixture (if it looks like it is curdling, add another tablespoon of flour). Using a large metal spoon, gently fold in the remaining flour and baking powder until just combined; don't overmix. Add the rose water, maple syrup, and lemon zest and fold gently. Add a dash of kefir or milk to loosen if too stiff.
Divide the mixture between the pans, level the top with a palette knife, and bake in the oven for 20 minutes or until the center springs back to the touch. Remove from the oven and cool in the pans for 5-10 minutes before turning onto a wire rack to cool completely.
Meanwhile, make the filling. Whip the cream until it forms soft peaks, then gently stir through the maple syrup and rose water. Fold in the yogurt or kefir, then carefully dot spoonfuls of jam into the cream bowl and stir gently to create a lovely marble effect.
Place one cake layer on a serving plate, gently spoon the cream mixture over the top, and sprinkle with pomegranate seeds. Top with the second cake layer, decorate with marbled cream and pomegranate seeds then repeat a third time with the remaining layer.
Lastly, top the cake with your strawberries and sprinkle with any remaining pomegranate seeds. You can also crush a few pomegranate seeds and flick the juice over the cake — this gives a lovely effect.
---
Source: Nourish by Amber Rose, Sadie Frost, and Holly Davidson [Kyle, 2015]