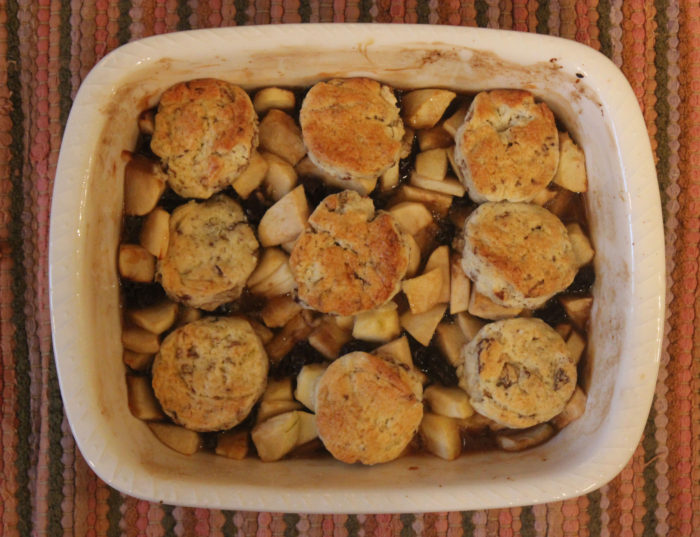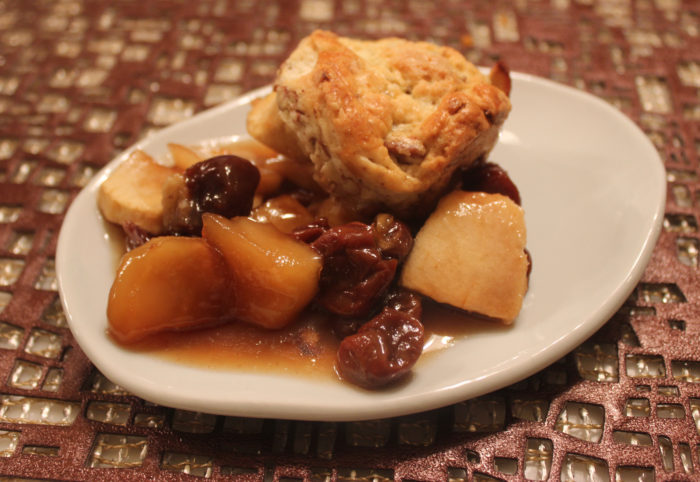 What could be more American than apple pie? Or cherry pie? How about a piping hot apple-cherry cobbler. This recipe is from the sublime American Desserts by Wayne Hurley Brachman. I did at TBT cookbook review a while back and I urge you to add this dessert book to your library. Dozens of wonderful, and very American, desserts.
A cobbler earns its name from the biscuits placed atop it which resemble cobblestones. Personally, I think cobblers make sense for those of us who are pie-crust-challenged. It's just a lot easier to make the biscuits that to fuss with a crust. I speak as someone who has had too many crust disasters. Repairing a badly flawed crust can bring tears to your eyes.
You'll cry over this dessert, too, but for good reasons.
The recipe says you get 8 biscuits. We got more. And the recipe mentions pecans but does not say to toast them. We did and used the surplus dough for scone-shaped biscuits. That was actually yesterday's post.
There is no cinnamon in this recipe and it is not needed. There is a coating liquid here, basically apple juice concentrate [NOT just apple juice] and brown sugar, that bakes into a bright, flavorful sauce.
---
Apple-Cherry Cobbler with Pecan Biscuits
Yield: serves 8
Ingredients:
For the biscuits:
2 cups cake flour
3 tablespoons granulated sugar
2 teaspoons baking powder
¾ teaspoon salt
½ cup coarsely chopped pecans [toasted in the oven at 350°F for 7-8 minutes, optionally]
½ cup (1 stick) cold butter, cut into pea-size bits
1 cup heavy cream
For the apple-cherry filling:
¾ cup thawed apple juice concentrate
2 tablespoons dark rum, preferably Jamaican 1 teaspoon vanilla extract
1 tablespoon cornstarch
¼ cup lightly packed dark brown sugar
¾ cup dried cherries
3 pounds (6 large) tart baking apples, such as Granny Smith, Rome, Golden Delicious or Northern Spy, peeled, cored and cut into 3/4-inch chunks (about 8 or 9 cups)
Egg wash: 1 large egg white mixed with 2 tablespoons water
2 tablespoons Demerara, coarse-grain or granulated sugar, for sprinkling
Preparation:
Make the biscuits:
In a large bowl, stir together the flour, sugar, baking powder, salt and pecans. Using a pastry blender, an electric mixer with the flat beater attachment or your fingertips, work in the butter until the mixture resembles coarse meal. Mix in the cream to form a soft dough. Knead for 10 seconds, then lightly flour the dough and pat it out on a cookie sheet in a 3/4-inch-thick layer. Cover with plastic wrap or waxed paper and refrigerate for at least 30 minutes, until firm.
Preheat the oven to 450°F., arranging a rack in the middle position.
Make the apple-cherry filling:
In a large bowl, make a slurry by whisking together the apple juice concentrate, rum, vanilla and cornstarch. Let the mixture rest for 1 minute, then whisk in the brown sugar. Add the cherries and apple chunks to the slurry, toss to coat the fruit, then transfer the filling to a shallow 2 ½ -quart baking dish. Cover with foil and bake at 375°F. for 20 minutes.
Meanwhile, uncover the biscuit dough and use a round cutter to cut out 2 ¼ -inch biscuits. Pat the scraps together and recut to make a total of 8 biscuits.
Take the baking dish out of the oven and remove the foil. Place the biscuits on top of the filling at about 1-inch intervals. Brush the egg wash onto the biscuits, then sprinkle them with the Demerara sugar. Return to the oven and bake for 20 more minutes, until the biscuits are tanned and firm and the filling is bubbly and thickened.
---
Source: American Desserts by Wayne Harley Brachman [Clarkson Potter, 2003]
Photo Information [top]: Canon T2i, EFS 60mm Macro Lens, F/5.6 for 1/60th second at ISO‑3200
Photo Information [bottom]: Canon T2i, EFS 60mm Macro Lens, F/3.5 for 1/40th second at ISO‑500