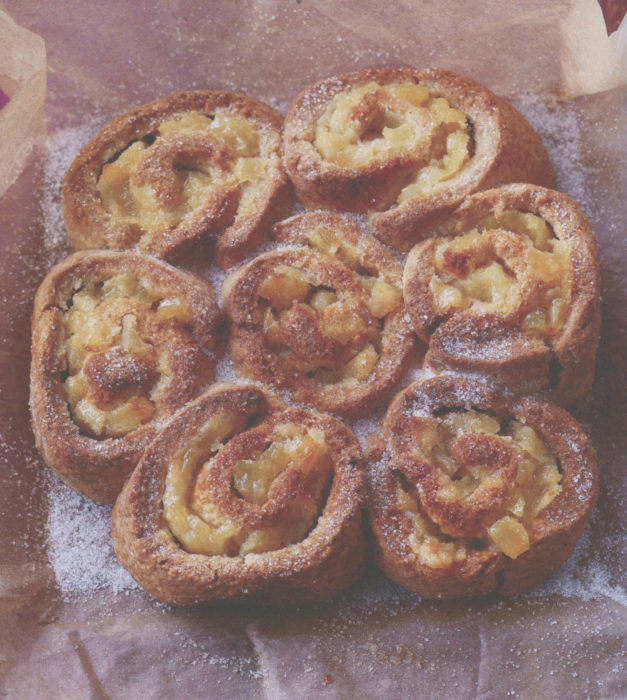 This recipe comes from the British West Country. Far from London and from Paris, this dish is a surprise, a kind of tart tatin in roulade shape. Very inviting to the eye and totally delicious from the first bite on. Feel free to adorn those apples with some spice, if you want. Cinnamon, allspice, nutmeg, … Just a little. You want to taste apple and not be overwhelmed. You can always make spice cookies to serve on the side!
---
Apple Dappy
Yield: serves 7
Ingredients:
For the apples:
1 pound tart eating apples, such as Cox's or Braeburn, peeled, cored, and diced
Freshly squeezed juice of % a lemon
2 tablespoons sugar
1 tablespoon unsalted butter
Clotted or heavy cream, to serve
For the pastry:
1 ½ cups all-purpose flour
1 teaspoon baking powder
1 teaspoon baking soda
Pinch of salt
½ stick unsalted butter
2 tablespoons sugar
2 tablespoons clotted or heavy cream
½ cup milk
Sugar, for sprinkling
Preparation:
Put the apples in a saucepan with the lemon juice, sugar, and butter and cook, uncovered, over medium heat until softened. Remove from the heat and set aside.
Preheat the oven to 425°F.
In the bowl of a food processor, combine the flour, baking powder, baking soda, and salt and pulse a few times to blend. Add the butter and sugar and pulse until the mixture resembles fine bread crumbs. Leave the motor on and add the cream and half of the milk. The dough should be soft and sticky. If it is too stiff, add the remaining milk.
Transfer the dough to a floured work surface. You need to roll it out to an 8 x 12 inches rectangle and it should be almost exactly that, not more.
Spread the cooled apple mixture over the dough and roll up from a long end, as you would a jelly roll. Mark 7 equal pieces on the roll, then cut into slices using a sharp knife. Arrange the slices, cut-side-up in the prepared baking pan, with one in the center and the others around it. (They should not actually touch as the dough will expand during baking.)
Sprinkle generously with sugar and bake in the preheated oven for 20-25 minutes, until puffed and golden. Let cool slightly and serve warm with cream.
---
Source: Cinnamon, Spice and Warm Apple Pie [Ryland Peters & Small, 2010]