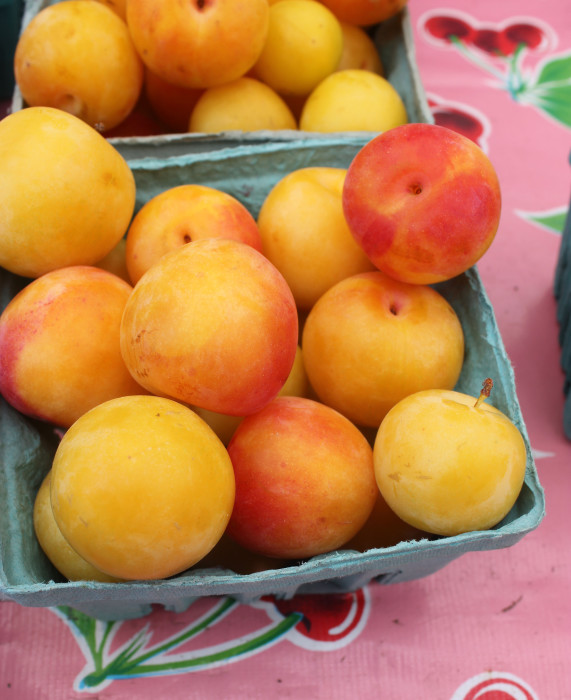 Those are apricots from our local farmers' market. How do you get them into a soufflé? Ah, there is an intermediate step. You need some Apricot Jam. This recipe for the soufflé comes from The Art of Simple Food by Alice Waters and, yes, there is an apricot jam recipe in the The Art. You just might want your own copy of The Art to get that apricot jam recipe. Or you may have your own recipe. Or, you can always expedite and buy some jam. I won't tell anybody on you.
You'll need some pastry cream, too. Yes, The Art has a recipe. And the serving suggestions include Vanilla Pouring Custard. The Art has the recipe. Can you take the hints?
Once you have your copy of The Art, you will thank me.


---
Apricot Soufflé

Yield: 6 servings

Generously butter a 1-quart soufflé or gratin dish and coat with a thin layer of sugar. Preheat the oven to 425°F and position an oven rack in the center of the oven. In a medium bowl combine:
½ cup Pastry Cream
6 tablespoons Apricot Jam (page 385)
A few drops of almond extract
Mix well and set aside. In a large copper or stainless-steel bowl, combine:
6 egg whites, at room temperature
A pinch of salt
Whisk until soft peaks form. Add:
2 teaspoons cornstarch
Beat a few more seconds, then sprinkle on:
⅓ cup sugar
Continue to beat the whites for a few more seconds. Quickly but gently fold the egg whites into the apricot mixture until just blended. Pour the soufflé mixture into the prepared dish. Place the dish in the middle of the oven and bake for 20 to 25 minutes, until it is puffed and browned. Serve immediately with heavy cream or Vanilla Pouring Custard (page 198), if you like.


---
Source: Art of Simple Food by Alice Waters [Clarkson Potter, 2007]