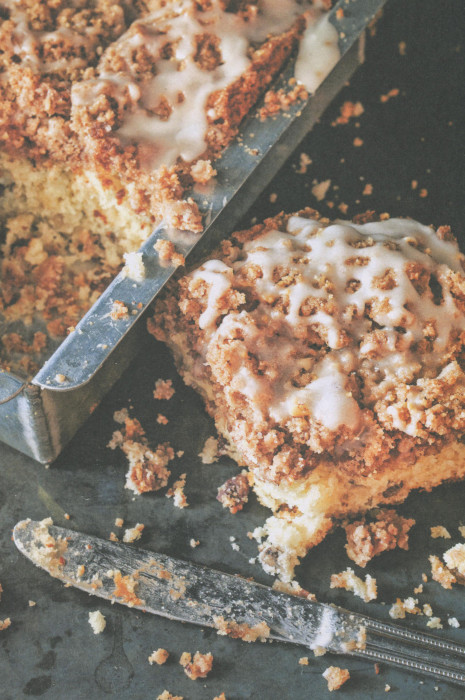 In his newest book Big Bad Breakfast, author John Currence demonstrates why, in the tiny town of Oxford, Mississippi, he has six restaurants and they are all packed. Born in New Orleans, John's Southern heritage is evident on every page. The recipes are designed for elevated breakfasts but many, like this one, make for a perfect dinner, too.
Much of Big Bad Breakfast is devoted to savory dishes. You can see that from the full book review here. But, but, John knows that people love breads and biscuits and waffles, too, so they happily populate part of the book.
For most of us, a banana cake is that loaf thing we make when the yellow is gone and the bananas are fragrant and black. One more day and the flies will appear. In truth, bananas are used by us too little and too late. This breakfast cake is ample proof of banana power. It is John's reconstruction of a chain bakery cake he grew up with in New Orleans and, with his skills, you can be sure this is spot on close to the original.
Oh, you are not a banana fan? Wait! Use chopped strawberries or blueberries instead. There is, you know, a theory that as long as cake has plenty of fruit it is perfectly healthy. I read that somewhere. I think the health blog on fakenews.com, but I could be wrong.
This cake is definitely not wrong.
Optionally, here you can add some white glaze like you find on cinnamon buns. In fact, for his Honey Buns, John says you would have to be an idiot not to glaze, so that recipe follows!
---
Banana Pecan Coffee Cake
Yield: one 8-inch square cake
For the cake:
⅓ cup granulated sugar
¼ cup unsalted butter or margarine, at room temperature
2 soft, ripe bananas, mashed
¼ cup sour cream
1egg
1 ¼ cups all-purpose flour
1 tablespoon baking powder
½ teaspoon baking soda
¼ teaspoon ground nutmeg
¼ teaspoon salt
½ cup whole milk
For the topping:
¼ cup all-purpose flour
¼ cup firmly packed light brown sugar
2 tablespoons granulated sugar
½ teaspoon ground cinnamon
3 tablespoons very cold, unsalted butter, cut into pieces
⅓ cup toasted chopped pecans
Preparation:
Preheat the oven to 375°F. Grease an 8-inch square baking pan.
To make the cake, in a large bowl with an electric mixer, cream the granulated sugar and butter at medium speed until fluffy, about 5 minutes. Add the bananas, sour cream, and egg and mix until combined.
Stir together the flour, baking powder, baking soda, nutmeg, and salt in a separate bowl. Add the flour mixture to the banana mixture, and then the milk. Beat until well combined. Pour the batter into the prepared baking pan.
To make the topping, in a small bowl, stir together the flour, sugars, and cinnamon. With a pastry blender or your fingertips, work the cold butter into the flour mixture until coarse crumbs form. Sprinkle the topping over the batter, followed by the pecans.
Bake until golden brown across the top, 35 to 40 minutes. Drizzle with glaze and let cool for 10 minutes or slightly longer before cutting into squares or wedges. Serve immediately or cover with a cake cover or kitchen towel for up to 2 days.
---
Glaze
Yield: 1 cup
Ingredients:
1 cup confectioners' sugar
¼ cup honey
1 tablespoon vanilla extract
2 tablespoons whole milk
3 tablespoons unsalted butter, melted
Preparation:
In a small bowl, add the ingredients and stir to mix. Lick the spoon.
---
Source: Big Bad Breakfast by John Currence [Ten Speed Press, 2016]