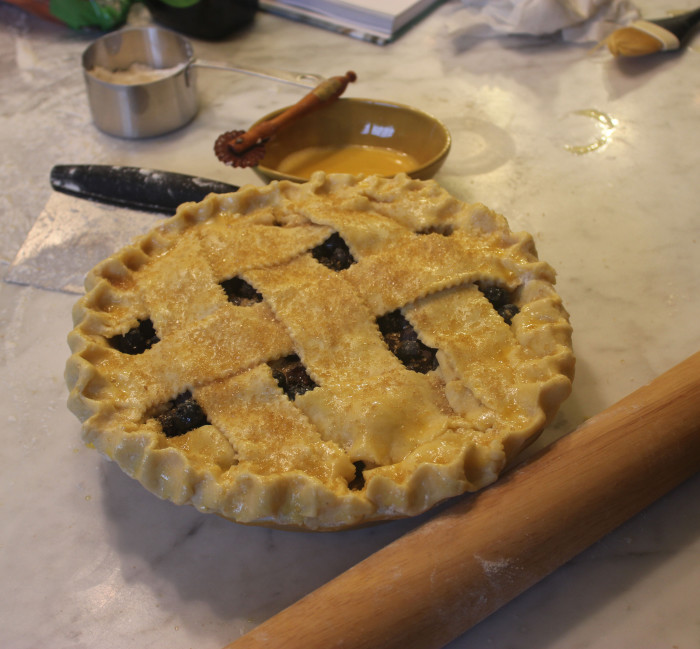 In First Prize Pies, Allison Kave argues that you can enjoy pie year round. Her argument is sound, and you can see my review here.
But, ah aren't there always buts in life, I think late summer is just the one time of year when you have to try pie. There are blueberries and nectarines, used here, plus peaches and plums and apples. It's fruity out there. And it needs to be fruity in your kitchen.
This recipe calls for a double crust pie, but the picture shows a lattice top. A wonderful, tasty lattice top. You'll find a step-by-step, photo-by-photo set of instructions in the book for making the lattice. And, it's easy. Easy. A very good reason for getting your very own copy of First Prize Pies!
There are, of course, some issues that arise when you bake pies. That's why so few of us do it. There's the too much liquid problem. That's why this recipe calls for cornstarch. Did it work for us? Kinda. Just kinda. The problem we had was using old, old blueberries. They disintegrated while baking and released a lot of fluid. This recipe should work just fine with very fresh berries. And, frankly, I don't mind if the pie flows a tad over my plate. Warm, steamy juice with berries and chunks of nectarines floating past crust covered with sprinkles of sugar.
Summer paradise. One crust at a time.
---
Blueberry Nectarine Pie

Yield: one 9-inch pie

Ingredients:

Crust:

One 9-inch pie crust [double] or, better the Cornmeal Crust on Page 44 of the book, which is why you need to buy this book!
Filling:

1 pound fresh I nectarines (about 4), cored and sliced
4 cups (560 g) fresh blueberries
Zest of 1 lemon
1 teaspoon vanilla extract
¾ cup sugar
¼ cup (30 g) cornstarch
¼ teaspoon cinnamon
¼ teaspoon salt
Egg wash or milk, for glaze
Raw sugar, for garnish
Preparation:

Preheat the oven to 425°F. Roll out half of the dough into a circle about 11 inches in diameter. Transfer it to a 9-inch pie plate. Trim the overhang to 1 inch and refrigerate the crust.
Make the filling: In a large bowl, toss together the nectarines, berries, lemon zest, and vanilla. In a separate bowl, mix together the sugar, cornstarch, cinnamon, and salt. Just before adding the filling to the pie plate, toss the fruit in the dry ingredients. Brush the rim of the bottom crust with egg wash or milk.
Roll out the second half of the dough into a circle about 11 inches in diameter. Lay it over the filled pie. Trim the edges, and tuck the top crust over the rim of the bottom crust to form a tight seal. Crimp the edge into whatever pattern you like. Brush the top crust with egg wash or milk, sprinkle it with raw sugar, and cut a few slits to allow steam to escape.
Put the pie on a baking sheet and bake it for 20 minutes, turning it once halfway through. Lower the temperature to 350°F and bake it for30 to 40 minutes more, until the crust is golden and fully baked and the juices have thickened. Remove the pie to a rack to cool completely, at least 1 hour. This pie can be refrigerated for up to 1 week, covered in plastic wrap. Let it come to room temperature before serving, or warm it in a low oven. It can be kept frozen for up to 2 months: Wrap it in plastic, then in foil, and let it come to room temperature before serving.
---
Source: First Prize Pies by Allison Kave [Stewart, Tabori and Chang, 2014]

Photo Information [top]: Canon T2i, EFS 60mm Macro Lens, F/4 for 1/40th second at ISO‑250

Photo Information [bottom]: Canon T2i, EFS 60mm Macro Lens, F/3.5 for 1/30th second at ISO‑400