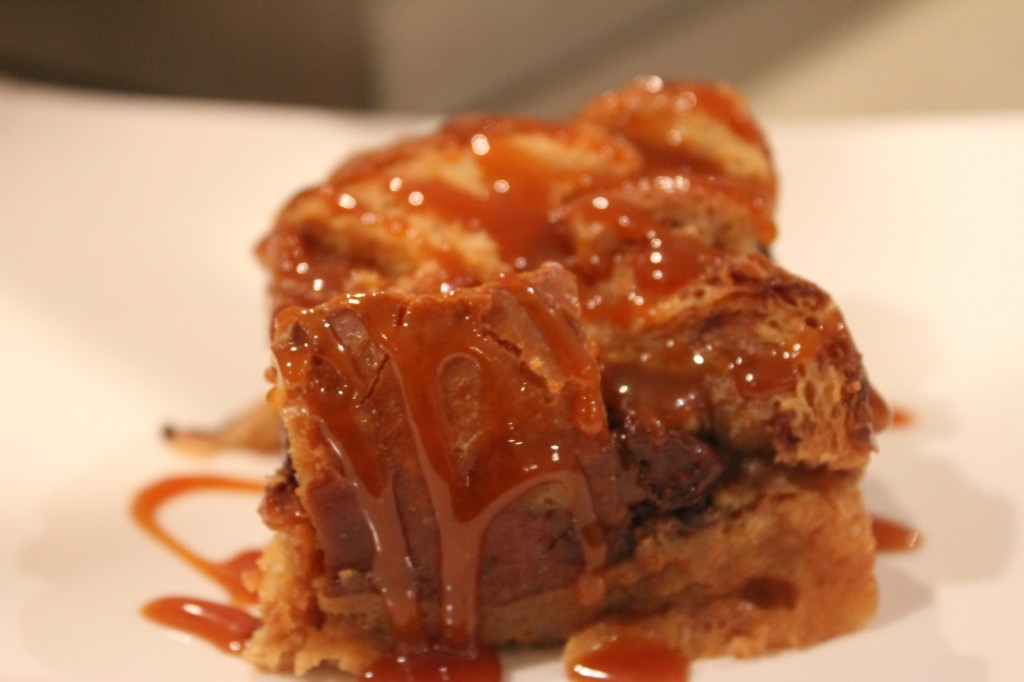 Yesterday's post was about how to make dulce de leche without risking a minor kitchen explosion.
Now that you have it, what do you do with it? Look at the picture. Bread pudding filled with chocolate chunks. And then crowned [if not quite drowned] in the dulce de leche. This is a wonderful fall or winter party dessert. Your guests will be awed. The meal will end on a sugar high. And you won't care what anybody thinks.
The secret to great bread pudding is great bread. And, all credit due, Suzen makes challah every weekend. Pillowy, rich challah that can be eaten on its own but truly deserves the glorious endings of French toast or bread pudding. If you can make your own bread. If you can't do that, then find a neighborhood bakery where the smell is intense and the freshness is guaranteed.
Dulce de Leche and Chocolate Chunk Bread Pudding
Yield: 8 to 10 servings
Ingredients:
1 1 ½ pound loaf egg bread cut ½-inch-thick slices, crusts trimmed, cut into ¾- to 1-inch cubes
4 tablespoons (1/2 stick) unsalted butter, melted, divided
2 ¼ cups heavy whipping cream
1 cup dulce de leche sauce [see yesterday's post for homemade!] plus more for serving
4 large eggs
2 large egg yolks
2 tablespoons dark rum
1 teaspoon vanilla extract
Pinch of salt
½ cup (about 3 ounces) bittersweet chocolate chips
2 tablespoons sugar
Powdered sugar
Preparation:
Preheat oven to 350°F. Place bread in large bowl. Drizzle with 3 tablespoons melted butter toss. Brush 11x7x2-inch glass baking dish with 1 tablespoon melted butter.
Stir whipping cream and 1 cup dulce de leche in medium saucepan over medium heat until blended and bubbling. Remove from heat. Whisk eggs and yolks in large bowl. Add rum, vanilla, and salt; gradually whisk in warm dulce de leche mixture. Stir in bread cubes. Let soak 30 minutes, stirring occasionally.
Mix chocolate chips into custard mixture. Pour into prepared dish. Sprinkle with 2 tablespoons sugar. Bake pudding until puffed and set in center, about 35 minutes. Let cool 15 minutes. Dust with powdered sugar.
Serve warm, passing more dulce de leche topping alongside.
Source: Jill O'Connor in Bon Appetit, March 2008, available at www.epicurious.com